ECO 605 Discussion 5.2: Structure—Process—Outcome Approach
dentify a health service quality improvement that you have been involved in or would like to see implemented.
Refer to the Structure/Process/Outcome approach to quality improvement. Identify two structures, two approaches, and two outcomes for your selected quality improvement.
In the post-acute setting, the reduction of falls is a common quality improvement project. The Center for Medicare and Medicaid Services has identified falls and falls with major injury as a standard Quality Measure that can affect the 5 Star Rating of a post-acute facility. As a director of nursing, I have developed many fall reduction quality improvement projects for a variety of facilities across the United States. I will share the structure, process, and outcomes of a fall reduction program I have recently implemented in my own facility.
It is common clinical knowledge that a decrease in the quality and length of hours of sleep can increase confusion in the elderly. For this program, I sought to increase hours of sleep by changing the standard of practice of providing incontinence care every two hours at night for incontinent residents in post-acute. The structure of this program involved the re-education of all NAC and LN staff to a new goal of increasing sleep. The NAC for this project were educated on how to make slight changes in body position without waking a sleeping resident to decrease the risk of skin breakdown. The number of NAC staff required on the NOC shift was reduced from 5 to 4.
The process of implementation included changing from standard briefs to overnight briefs for all incontinent residents. These briefs are purchased at a higher price point but allow for increased length of time between incontinence changes allowing the resident to sleep longer. The policy and procedure for the standard of care related to incontinence were revised from q 2-hour incontinence changes to 2x a shift changes giving the average resident 6-8 hours of uninterrupted sleep. The policy was reviewed and compared to current regulation and CMS standards.
The outcomes far exceeded expectations. In a year-over-year and month-over-month comparison, the reduction of falls averaged 40% from January 2021 to January 2022. The number of falls with major injury was reduced by 80% in a year-over-year comparison. INs addition to a reduction of falls, the BIMS scores of 18  long term care residents increased by 5 points showing an increase in overall cognition that can be attributed to the reduction of staff interruptions of sleep. This one year fall reduction program shows great promise in changing the standard of care practice in the post acute environment.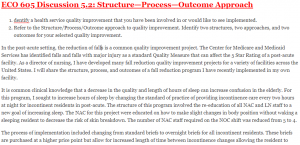 This was a very interesting post regarding the reduction of falls. You provided two very good processes that can positively influence this health service quality. Two other processes that can also be implemented are the use of purewicks or condom caths in which some patients wake themselves up after an incontinence episode. This process would keep patients asleep during the night and would decrease confusion in the elderly and reduce falls. Another process would be adjusting medication schedules to fit the day and night schedule of the patients. This can include multiple different examples such as giving sleeping/relaxant medications at night so that patients don't nap throughout the day and giving diuretics during the daytime so the patients will not be up urinating all night. These two additional processes can help reduce the risk of falls by providing more hours of rest to these patients. Thank you so much for sharing!