ECO 605 Discussion 3.1: Quality versus Cost Relationship
Discussion 3.1
An example of a medical treatment that has increased in quality over the past few decades is chemotherapy. This increase in quality has also resulted in a higher price for chemotherapy. The quality increased because the chemotherapy is able to more precisely attack tumors while leaving nearby, healthy cells relatively unharmed (Mayo Clinic, 2022). This then may allow for a surgery where the tumor is removed or for radiation to kill the tumor cells (Mayo Clinic, 2022).
The quality increased due to scientific and medical advancements. The price increased because the research for these advancements is expensive and giving these medications is expensive. Globally, over $150 billion U.S dollars are put towards cancer research and treatment (Mayo Clinic, 2022). Chemotherapy agents also need to be administered by highly trained personnel. There are cancer treatment centers all across the United States that patients attend on a scheduled basis to receive their chemotherapy. The system that has been established around cancer treatment is expensive and requires specialized equipment and additional education for healthcare workers in the hematology/oncology field.
Reference
Mayo Foundation for Medical Education and Research. (2020, March 5). Chemotherapy. Mayo Clinic. Retrieved January 14, 2022, from https://www.mayoclinic.org/tests-procedures/chemotherapy/about/pac-20385033
n medical treatments, there is a link between quality improvement and increase in cost of the treatment. For instance, any new cancer drug will be expensive. Cancer is a very deadly disease. There is no easy cure for cancer. Therefore, the cancer drugs are expensive. Pharmaceutical  companies do have a lot of costs that go into developing an effective cancer treatment, such as the expense of discovering the drug and then testing it for safety and efficacy. This process can take years and millions of dollars to complete. To bring a drug to market, especially a cancer drug, is so expensive. Pharmaceutical companies do have many more failures than successes and the years' research and development costs are factored into the cost of the drug. These companies, like any other, need to make a profit to stay in business. They exist as much to make money as they do to provide drugs for the diseases their products treat. In the United States, the average price of cancer drugs for about a year of therapy increased from $5000 to $10,000 before 2012 to more than $100,000 by 2019 (Kantarjian et.al.,2020). Due to increased medical advancements and researches, the quality is increased with the invention of new drugs. The life span of people living with cancer increases because of these new drugs. The treatments are expensive, but they  extend life for many patients in meaningful ways.
References
Kantarjian, H., Steensma, D., Rius Sanjuan, J., Elshaug, A., & Light, D. (2020). High cancer drug prices in the United States: Reasons and proposed solutions. Journal of Oncology Practice, 10(4).
Hello Husnaldeep,
Great discussion! I work in a pharmacy, and i agree with you that cancer drugs are extremely expensive and when people don't have a choice to take the medication, they will pay however much the price is. I feel like the reason why there is an increase in quality in the cancer drugs is because now with the advancements in medical technology, scientists can do more studies to see how these drugs target cancer cells in the body without also harming the healthy cells in the body; this has increased the cost in these medications. These changes may impact end users of this product because the out of pocket cost will be extremely expensive and it may not be in the formulary of their insurance. This means that patients will have to pay over thousands of dollars to battle cancer, but in the end it truly will help them extend their lives which would benefit them.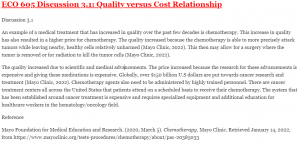 I enjoyed reading your piece on how cost is effected by the increased quality of chemo drugs, and how pharmaceutical company's technology and new advancements effected the cost as well. There are a lot of common and rare cancers that have been studied and trialed more than others. Genetic testing of an individuals cancer can help pinpoint their best treatment options. At times a person may only have one or two options of chemo treatment that would be best for that particular cancer. It is great to have any option available when one is in a dire and scary situation. Since there are limited options the costs of these particular chemo drugs can be astronomical, however, these options can save lives, and it is due to increasing the quality of these drugs, and through technology, such as genetic testing that can truly positively impact those receiving treatment.
I just wonder in the area specifically of pharmaceuticals, and in your case, the cancer drugs how a quality increase can truly be measured? I feel as though you answered this question to an extant with comparing raising costs to patients having to pay more for treatments and living longer. Even though patients are living longer I would have like for you to touch on the quality of life while on treatment and how that was improved. Chemo is very taxing on the body and though the drugs may be more effective, do the patients still have to suffer just the same? My guess is the answer is no, and that in fact the treatments have also improved which then does justify the cost increase and quality increase and that the possibly then the places that are making these drugs are maximizing on profit and output. Some other things that may increase quality and cost may be the facilities that the patients receive certain drugs and treatments in, and maybe even the staff training and education for administration.
Good work,
An example of medical treatment that has increased in price due to the increase in quality would be the newer Hepatitis C (HCV) medications. These newer medications, direct-acting antivirals (DAA), have a 95% or higher cure rate, a shorter duration of treatment, and are minimally invasive with fewer side effects. The development of new technologies and treatment of viruses resulted in this higher quality of care. This also accounts for the increase in price to offset the cost of development. The object of any medical treatment should be to offer the highest quality outputs (Hicks, 2021). Many patients are cured with an eight-week course of DAA medication.  It also retails for between $26,000-94,00 per course of treatment (Grove & Erlich, 2018). The development of these new DAA medications has dramatically changed the quality of care and quality of life for HCV patients.
The previous treatment, interferon and ribavirin had a 54-63% efficacy rate, was much more invasive and there were several complications (Feuerstadt et al., 2010). The treatment duration was also very long and a large number of patients discontinued due to side effects and lower cure rates. The average price for treatment was also $2,000 per regimen and largely out-of-pocket (Feuerstadt et al., 2010). After the development of the DAAs this treatment became largely obsolete as it was no longer in the best interest of the patient. Lower income and rural areas would still use this treatment due to price, but it was no longer best practice, and several insurers were covering the majority of the cost for the DAA medications.
It's not often that primary care providers can tell a patient they have been cured of a chronic illness. With the introduction of the DAA medications this is now possible and can help prevent further deaths of HCV patients. I treat HCV patients in my office and many of them tell me how apprehensive they were to try a new HCV treatment after the experience they have had with the previous treatment. It's a very rewarding experience when I get to tell them they have been cured.
Feuerstadt, P., Bunim, A. L., Garcia, H., Karlitz, J. J., Massoumi, H., Thosani, A. J., … & Reinus, J. F. (2010). Effectiveness of hepatitis C treatment with pegylated interferon and ribavirin in urban minority patients. Hepatology, 51(4), 1137-1143.
Grover, A., & Erlich, D. R. (2018). Glecaprevir/pibrentasvir (Mavyret) for the treatment of chronic hepatitis C. American family physician, 98(10), 601-602.
Hicks, L. (2021). Economics of health and medical care. Jones & Bartlett Publishers.
APA Writing Checklist
Use this document as a checklist for each paper you will write throughout your GCU graduate program. Follow specific instructions indicated in the assignment and use this checklist to help ensure correct grammar and APA formatting. Refer to the APA resources available in the GCU Library and Student Success Center.
☐ APA paper template (located in the Student Success Center/Writing Center) is utilized for the correct format of the paper. APA style is applied, and format is correct throughout.
☐ The title page is present. APA format is applied correctly. There are no errors.
☐ The introduction is present. APA format is applied correctly. There are no errors.
☐ Topic is well defined.
☐ Strong thesis statement is included in the introduction of the paper.
☐ The thesis statement is consistently threaded throughout the paper and included in the conclusion.
☐ Paragraph development: Each paragraph has an introductory statement, two or three sentences as the body of the paragraph, and a transition sentence to facilitate the flow of information. The sections of the main body are organized to reflect the main points of the author. APA format is applied correctly. There are no errors.
☐ All sources are cited. APA style and format are correctly applied and are free from error.
☐ Sources are completely and correctly documented on a References page, as appropriate to assignment and APA style, and format is free of error.
Scholarly Resources: Scholarly resources are written with a focus on a specific subject discipline and usually written by an expert in the same subject field. Scholarly resources are written for an academic audience.
Examples of Scholarly Resources include: Academic journals, books written by experts in a field, and formally published encyclopedias and dictionaries.
Peer-Reviewed Journals: Peer-reviewed journals are evaluated prior to publication by experts in the journal's subject discipline. This process ensures that the articles published within the journal are academically rigorous and meet the required expectations of an article in that subject discipline.
Empirical Journal Article: This type of scholarly resource is a subset of scholarly articles that reports the original finding of an observational or experimental research study. Common aspects found within an empirical article include: literature review, methodology, results, and discussion.
Adapted from "Evaluating Resources: Defining Scholarly Resources," located in Research Guides in the GCU Library.
☐ The writer is clearly in command of standard, written, academic English. Utilize writing resources such as Grammarly, LopesWrite report, and ThinkingStorm to check your writing.