DNP 815 Share an example describing the application of learning theory in relation to your DNP Project
DNP 815 Share an example describing the application of learning theory in relation to your DNP Project
DNP 815 Share an example describing the application of learning theory in relation to your DNP Project
Cognitive Learning Theory
The Cognitive Learning Theory focuses on perceptions, reasoning, memory, development, and processing. Thinking and reasoning develop in stages over the lifespan. Individuals' approaches to learning reflect their level of cognitive development and past experiences. Information is incorporated, organized, and interpreted in relation to what the learner already knows.
In the Cognitive Learning Theory, learners are active and impacted by goals rather than rewards. Education is a social experience impacted by teachers and other students. Useful in clinical learning by rotation. Criticism includes concerns about unpredictability of learners' minds and the exclusion of emotion and emotional intelligence.
Butts, J. B., & Rich, K. L. (Eds.). (2013). Philosophies and theories for advanced nursing practice. Sudbury, MA: Jones & Bartlett. 
Cognitive learning theory focuses on how information is processed by the brain and how learning occurs through an internal processing of information (Mukhalalati & Taylor, 2019). The term often associated with this theory is metacognition, in which an individual thinks about their thinking. One benefit of the cognitive theory to health care is its encouragement of recognizing and appreciating individuality and diversity in how people learn and process experiences. One way my organization uses this theory is in the simulation lab. The simulation lab allows nurses to get hand on training and allows for them to make mistakes. The nurses can then use their thought process to think about where they went wrong in their thinking so that they can correct their practice going forward.
Reference
Mukhalalati, B. A., & Taylor, A. (2019). Adult learning theories in context: A quick guide for healthcare professional educators. Journal of Medical Education and Curricular Development, 6, 238212051984033. https://doi.org/10.1177/2382120519840332 
When it comes to my project, I chose Peplau's Interpersonal Relations in Nursing theory. I chose this because it specifically revolved around communication and the building of a relationship between two parties. The theory itself was originally was meant to signify the relationship between a staff member and a patient; however, it can be applied to the relationship between two nurses during handoff. It involves four main areas: preorientation or preparation, orientation, working, and termination or resolution. In the preparation area, the nurse is gathering all necessary and pertinent information or data related to the client in question to ensure he or she is well-informed enough to speak about the case. In the orientation area, the communication between the two nurses begins and a rapport is built in a sense. In the working area, therapeutic communication occurs, or in this case, the handover is done. In the termination or resolution area, the interaction ends and final recommendations are given by the leaving nurse (Butts & Rich, 2018, chapter 12, p. 385). This relates to the handover process in the fact that nursing staff first collect information that is necessary to give during handover, then meet the on-coming nurse, commence handover communication, and then give recommendations and conclude the conversation.
References
Butts, J. B., & Rich, K. L. (Eds.). (2018). Philosophies and Theories for Advanced Nursing Practice (3rd ed.). Jones & Bartlett. ISBN-13: 9781284112245
Learning theories are the foundation of instructional design solutions to achieve desired learning outcomes. Models and theories provide a framework and foundation of any design project wherein theories serve as lenses to view the problem from different perspectives, and models provide guidance on how to build the solution (McDonald & West, 2021). It is very important to conduct a thorough analysis to ensure that the selected strategy or theory will support the goal outcomes and the learners targeted. Learning theories have main families, such as behaviorism, constructivism, connectivity, and cognitivism (McDonald & West, 2021). The two methods used for learning theories adapted from Morrison in 2013 are learner-focused and instructor-focused.
Behaviorism and cognitivism are both instructor and lecture-focused. Behaviorism is based on drill and practice, role learning, and multiple-choice assessment, whereas cognitivism is about visual tools to facilitate memorization, multiple choice, and essay assessment. On the other side, constructivism and connectivism are both learner-focused. Constructivism facilitates student-guided learning, discovery learning, and collaborative peer learning and assessment. Connectivism collaboratively creates knowledge, spontaneous learning groups, and self-directed learning and sharing of resources. Motivation and engagement theories are important when discussing learning theory because keeping learners motivated and engaged is important, and that is how they learn best.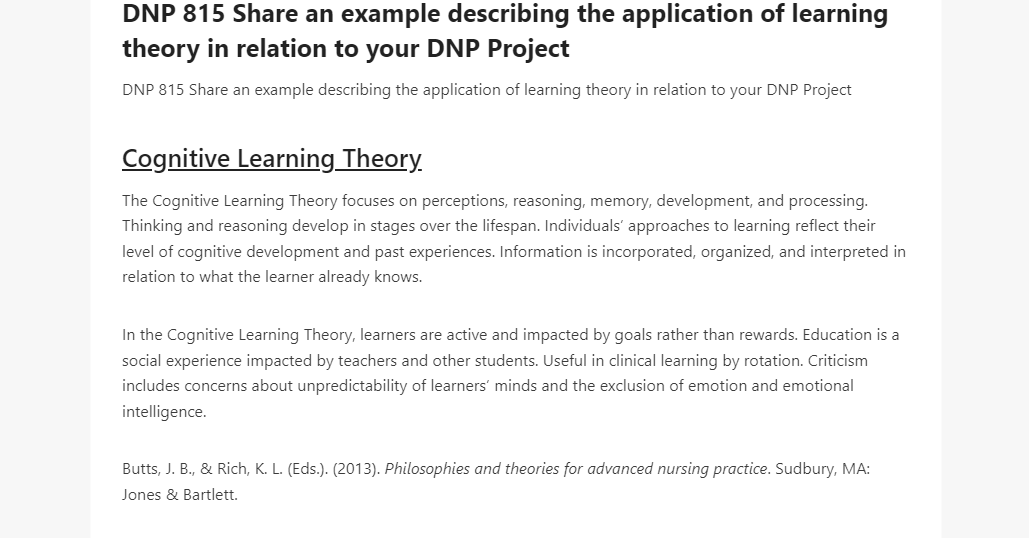 Cognitive learning theory is an important application related to my DNP. Hemodialysis patients should be empowered with appropriate infection control prevention education and must play an active role in self-care with the guidance and support of hemodialysis staff (Sem, 2022). The main objective of patient education is to assess the knowledge of the patients, awareness, and understanding of bloodstream infection. Visual and tactile educational techniques not only cognitive was emphasized but tap into the patient's affective learning domain. Self-efficacy is a determinant of engagement in self-care behavior.
References
McDonald, J.K., & West, R.E. (2021). Design for learning: principles, processes, and praxis (1st ed.). EDTech Books.
Sen, L. (2022). Patient CLABSI prevention education among in-patient hemodialysis patients.American Nephrology Nurses Association (ANNA) National Symposium, May 22-25, 2022, Fort Worth, Texas. Nephrology Nursing Journal, 49(2), 174.
https://lopes.idm.oclc.org/login?url=https://search.ebscohost.com/login.aspx?direct=true&db=ccm&AN=156612080&site=eds-live&scope=site&custid=s8333196&groupid=main&profile=eds1
Learning theories serve as a template to guide education in nursing. They are also applied directly in professional practice when educating patients. This framework explains how we learn. Butts & Rich (2017) identify four theories: behaviorism, cognitive, psychodynamic, and humanistic. The situation, assessment of the learners, and desired outcomes are delineated to decide which will be most appropriate for practice (Butts & Rich, 2017). The behaviorist theory works best with situations that improve health, include simple tasks, changing performance or behaviors, and in medical advertisements or campaigns (Butts & Rich, 2017). In the cognitive theory, it is best with more complex situations, problem-solving, and improving bias (Butts & Rich, 2017). The psychodynamic is best for situations of conflicts, motivation, and when dealing with personalities (Butts & Rich, 2017). Lastly, the humanistic theory helps in correcting situations, palliative, wellness, and emotional (Butts & Rich, 2017). The humanistic learning theory is one that best fits the future project, which is based on the implementation of Five Wishes which is an advance directive form. The project fits the situations in which the theory works well. People for whom it works well are those with negative self-concepts, unhealthy needs, and or stigmatized by society (Butts & Rich, 2017). The implementation area is at a rural clinic where patients mostly have low income, low literacy levels, and highly complicated and uncontrolled chronic conditions. Butts & Rich (2017) identify that combining learning theories can enhance learning outcomes. Constructivism is another theory that can be apply to the project. Clark (2018) explains that this is a learner-centered model. The students, which in this case will be patients, will be asked to discover what their wishes would be in case of a medical emergency and or a clinical condition in which they will not be able to make decisions. Once he or she has discovered those items, they will construct a written plan of those wishes. The patient and the facilitator will collaborate to have the advanced directive completed. Collaboration occurs by the patient providing and constructing what will be written on the advanced directive. The facilitator collaborates by answering questions about the document in a respectful and non-bias manner for the Five Wishes form to be completed thoroughly.
References:
Butts, J. B., & Rich, K. L. (2017). Philosophies theories and for advanced nursing practice (3rd ed.). Jones & Bartlett Learning.
Clark, K. R. (2018). Learning Theories: Constructivism. Radiologic Technology, 90(2), 180–182.
Unread
While providing education in clinical settings it is important to understand that everyone learns and processes information differently. Therefore, educators can use learning theories to structure education so that it meets the needs of the nurse. Learning theories provide a framework for knowledge development in clinical settings. Common theories for learning in nursing are the behavior theory which focuses on stimulus in the environment leading to an individual's change of behavior, cognitive which involves the process of understanding, storing, and retrieving information, and constructive learning theory in which the learner makes sense what they have experienced (Mukhalalati & Taylor, 2009). It is important to be familiar with these learning theories as they influence nursing practice.
The focus of my DNP project is to explore if virtual reality affects pain outcomes in hospitalized patients. The learning theory that would be applicable to this project is the constructive learning theory. Constructivism actively allows nurses to draw a conclusion about what they have gathered, observed, or experienced. As it relates to the project nurses implementing the intervention would use their past/current knowledge of pain management as a foundation. Immersive technology can enhance learning performance by providing learners with meaningful experiences (Hardie et al., 2020). Therefore, when nurses actively use virtual reality, they can absorb and learn new information. If virtual reality positively influences pain by decreasing pain scores, nurses will understand that virtual reality can be sued as an alternative approach to pain management.
Reference
Hardie, P., Darley, A., Carroll, L., Redmond, C., Campbell, A., & Jarvis, S. (2020). Nursing & Midwifery Students' experience of immersive virtual reality storytelling: An evaluative study. BMC Nursing, 19(1). https://doi.org/10.1186/s12912-020-00471-5
Mukhalalati, B. A., & Taylor, A. (2019). Adult learning theories in context: A quick guide for healthcare professional educators. Journal of Medical Education and Curricular Development, 6, 238212051984033. https://doi.org/10.1177/2382120519840332 
Learning theories can be used individually, group-wise or at a community level, not only for understanding and learning new things, but also for problem solving, changing the health habits, constructive communication, control emotions and affecting behavior development. The models are tools for student learning, and they are suitable for application development, especially for the students, who their record of learning should be considered. The learning theory that I do believe fits towards by DNP project is transformation learning theory. Transformative learning theory focuses on the idea that learners can adjust their thinking based on new information. DeSapio (2017), explains that transformational learning theory is still, perhaps, one of the least consistently defined and explained learning theories. In essence, scholars understand there is a kind of learning that transforms, and this transformation is most useful, and indeed necessary, to tackle workplace issues of equality, compassion, and ethics, or social issues regarding racism, justice, and reconciliation. But beyond that essence, there is little agreement on anything practical.
My Project looks for improvements of resuscitation efforts using best practice guideline recommendations. This seems to be an ever-changing effort. Kwon (2019), stated that the current methods of CPR were based on the ones formed in the 1950s. The American Academy of Science made the first guidelines for CPR in 1966. After that, two prominent societies, the American Heart Association in the US and the European Resuscitation Council in Europe have improved their own CPR guidelines respectively. The guidelines are the basis of most currently existing CPR methods that are being used in in-hospital or out-of-hospital circumstances. Furthermore, the renewal of the guidelines has been announced every 5 years since 2000. To keep up with this these practice changes staff must remain practical, compassionate and transformational. There also so many ethical considerations toward resuscitation efforts that are to be considered. Many times if not up to date with best practice measures decisions can be made that can lead to suit.
Hoggan, C., & Kloubert, T. (2020). Transformative Learning in Theory and Practice. Adult Education Quarterly, 70(3), 295–307. https://doi.org/10.1177/0741713620918510
DeSapio, J. (2017). Transformational Learning: A literature review of recent criticism. Journal of Transformative Learning, (4)2, 56-63.
Kwon O. Y. (2019). The changes in cardiopulmonary resuscitation guidelines: from 2000 to the present. Journal of exercise rehabilitation, 15(6), 738–746. https://doi.org/10.12965/jer.1938656.328
Kwon O. Y. (2019). The changes in cardiopulmonary resuscitation guidelines: from 2000 to the present. Journal of exercise rehabilitation, 15(6), 738–746. https://doi.org/10.12965/jer.1938656.328
Learning theories are the main guide for educational systems planning in the classroom and clinical training included in nursing. There are three general learning theory categories: Cognitive, behavioral, and constructive. The category that best relates to my project would be Behavioral. In this theory the learners can obtain behavioral reinforcement, which results are positive should be conditional for good performance. So basically, if the patient adheres to some behavioral changes such as eating right and dieting their end stage renal disease would be prolonged. The staff can only provide the education per guidelines, but it is up to the patient to follow. The positive reie4nforcemetn is increased life span for these patients. In reference to the staff, knowing that their patient as our rates of patient compliance increase, they are able to obtain staff bonuses.
According to Sleet (2020), it is important to present interventions that will drive health improvements and change behavior, leading to healthier habits. People with CKD undergoing dialysis face unique health challenges, and thus, it is important to manage their diet and fluid intake. Patients need to understand the importance of changes past behaviors. Staff will explain that they will need more protein than they did before dialysis was started. They may need to limit salt and fluids. They also may need to limit minerals such as potassium and phosphorus. A diet for end-stage renal disease takes planning and perseverance. The rewards are self-explanatory to gain behavior changes that needs to be added to the explanation plan as well.
Mukhalalati, B. A., & Taylor, A. (2019). Adult Learning Theories in Context: A Quick Guide for Healthcare Professional Educators. Journal of medical education and curricular development, 6, 2382120519840332. https://doi.org/10.1177/2382120519840332
Sleet, D. A., & Dellinger, A. M. (2020). Using behavioral science theory to enhance public health nursing. Public health nursing (Boston, Mass.), 37(6), 895–899. https://doi.org/10.1111/phn.12795
Learning can be understood from educational, psychological, and research-based standpoints through the understanding of the principles of learning theories and their application to advance nursing practice. Butts and Rich (2017) noted that most learning theories are connected to nursing practice and described in relation to health care. Gaining knowledge, understanding, or skills through experience is termed learning, a phenomenon critical to human capital development (Butts & Rich, 2017). In my everyday encounter with patients, in addition to taking cognizance of the ethical environment, the care I provide amplifies behavioral belief theory. Behaviorist, cognitive, psychodynamic, and humanistic theories are learning theories that are widely known in education and psychology. Of these four theories, behaviorist and cognitive, and especially in the 21st century, the behaviorist theory continue to be useful in health care.
Learning theory has its foundation in the field of psychology, a scientific study of mental model and behavior, and also a research-based pathway to a better knowledge of human behavior. Evidence-based interventions grounded in theory can lead to desirable behavior changes (Barley & Lawson, 2016). Learning theories have found usefulness in research, education, particularly in the nursing profession. Butts and Rich (2017) posits that "These theories are highly applicable and provide the foundation for educational practices, counseling, advertising, workplace management, and rehabilitation" (p. 288). As a nurse, I routinely recommend health-related behavior changes, such as rest, a maximum of 30 minutes' walk, and abstinence from alcohol for a period of three months when CDL drivers fail physicals. I have seen improvement in the blood glucose level of this set of drivers when they strictly adhere to the recommendations.
References
Barley, E., & Lawson, V. (2016). Using health psychology to help patients: theories of behavior change. British Journal of Nursing, 25(16), 924–927. https://doi-org.lopes.idm.oclc.org/10.12968/bjon.2016.25.16.924
Butts, J. B., & Rich, K. L. (2017). Philosophies theories and for advanced nursing practice (3rd ed.). Jones & Bartlett Learning.
Learning is the change in the behavior of an organism that is a result of prior experience. Learning theory seeks to explain how individuals acquire, process, retain, and recall knowledge during the process of learning. Environmental, cognitive, and emotional influences, along with prior experiences, play a vital role in comprehending, acquiring, and retaining skills or knowledge. (Gandhi, & Mukherji,.2022). An understanding of these theories provides a sound rationale for choosing specific instructional and assessment strategies that measure given objectives.
Behaviorism: According to the theory of behaviorism, learning occurs by linking stimuli and responses. Knowledge is independent, and it becomes cemented by way of punishments and rewards. These ideas of positive and negative reinforcement, which may be natural consequences or implemented by another, are effective tools for learning and behavior modification. Behaviorism focuses on observed actions, the conditions under which they are performed, and the reinforcement of desired behaviors. (Gandhi, & Mukherji,.2022). Secondly cognitivism theory of learning is grounded in the work of Jean Piaget, which states that learning occurs through the processing of information internally rather than merely responding to an external stimulus. Finally, humanism on the other hand as theory is closely related to constructivism and adult learning theory, and states that learning is a natural desire with the ultimate goal of achieving self-actualization
For my DPI project the application of learning theory will be very important and the learning theory of behaviorism will be utilized. This is so because it is very useful in the area of communication and clinical skills. this project is on patient centered fall preventive measures among post-operative patients in a Skilled Nursing Rehabilitation facility. Behaviorist believed that learning is a change in observable behavior and it happens when the communication occurs between the two events, a stimulus and a response. These trainings / learning can occur in small chunks with repetition that help learn the intended behavior over some time. Hence teaching certain skills through communication the patients are expected to make behavioral changes, perform skills or techniques as demonstrated by the healthcare team. The patients will be encouraged to fully understand and implement the correct skills. (Aliakbari, et al ,2015). Encouragements will be provided to achieve, establish and maintain behavioral conduct. A change in performance is evident after the learning process, and the outcome is measured in terms of being able to demonstrate a specific new behavior.
In general, one can say that using any of these theories in its place is desirable and useful. The most salient or easily applied strategies from the mentioned learning theories can be administered when educating patients. Understanding the differences of learning can help improve patient compliance, leading to an improved prognosis. Thus, it is imperative for interprofessional teams to understand which teaching modalities may promote the best compliance.
References
Aliakbari, F., Parvin, N., Heidari, M., & Haghani, F. (2015). Learning theories application in nursing education. Journal of education and health promotion, 4, 2. https://doi.org/10.4103/2277-9531.151867
Gandhi MH,& Mukherji P.(2022).Learning Theories. Available from: https://www.ncbi.nlm.nih.gov/books/NBK5
Sometimes adults do not even recognize that they are continuously learning (Merriam, 2018). Learning theories related to adults depends upon the fact that adults learn differently as compared to children. Adults are self-motivated as they know the value of education. Adults learn new things throughout their lives, they set a goal in their mind when they start studying. Computer learning skills are related to cognitive learning theory. In this modern era,
adult issues can solve, if they know how to use the computer. The perception of a person is an
essential factor in finding their place in the social environment. Get information to control their environment and fate, adults are learning computers faster.
By learning how to use computers and the internet, they are able to control the threads to their psychological and physical well-being: social isolation. Spouse loss, retirement, and children living in other cities are causes of social isolation. Most adult people are titled, vulnerable people. They are at greater risk of having health-related problems. But with learning computers and the internet, they become independent. For example, 86 year old man can
independently make a doctor appointment and schedule a ride service for his appointment. 80 years old women who are spending their days in a wheelchair, communicate with their friends and relatives by email. She comes to know that she can order food from different grocery chains by using email. She lives in a senior residence. Due to her health issue, she cannot eat the food which is served there. Now she can order her diet food by using her computer skills. Learning of modern technology shows effects on the life problem solving of older adults. For example, a
woman who lives with her ill husband can research medication and health concerns using the internet. Adults can use the internet and computer skills not only to create ideas but also to create different ways to cope with life.
Older adults are mostly self-radiant and self–sufficient due to the history of their era and life experience. When they face the problem, they start searching for information related to their problem. For this purpose, learning computer skills are the best to get information related to health. They can improve their quality of life, prevent cognitive decline, and maintain their independence (LoBuono et al., 2020).
References
LoBuono, D. L., Leedahl, S. N., & Maiocco, E. (2020). Teaching technology to older adults:
modalities used by student mentors and reasons for continued program participation.
Journal of gerontological nursing, 46(1), 14-20
Merriam, S. B. (2018). Adult learning theory: Evolution and future directions. In Contemporary
theories of learning (pp. 83-96). Routledge.