DNP 815 Psychosocial theory in nursing practice includes factors, such as self-efficacy, stress and coping, learned helplessness, and social support.
DNP 815 Psychosocial theory in nursing practice includes factors, such as self-efficacy, stress and coping, learned helplessness, and social support.
DNP 815 Psychosocial theory in nursing practice includes factors, such as self-efficacy, stress and coping, learned helplessness, and social support.
Behavior change is an important concept in relation to health promotion and disease prevention. Self-efficacy has been identified as an important determinant of health behavior, future health behavior and health behavior change. (Halloway & Watson ,2002) Bandura defined self-efficacy as confidence that one can successfully execute a course of action to produce a desired outcome in a given situation and contended that self-efficacy determines how much effort and persistence people exhibit in the face of obstacles or aversive experiences.
Inpatient fall prevention has been an individual area of concern for nursing for almost 50 years. Traditional hospital-based incident reports deem all inpatient falls to be avoidable, and therefore falls are classified as adverse events. Indeed, falls are the most frequently reported adverse events in the adult inpatient setting. And for this patient to regain their strength and ability to function postoperatively the DNP project will be using utilizing some aspect of the self-efficacy theory.
Self-efficacy proposed by Bandura plays an important role in modulating health behaviors and in turn positively affecting life qualities. Many studies have indicated that patients with higher self-efficacy are more effective in the self-management of illnesses. Patients with high self-efficacy would be more likely to deal with life stressors with confidence and engage in the necessary behaviors to preserve or restore health (Xu, et al 2018).
To improve patients' self-efficacy and quality of life,the DNP project will educate, provide psychological intervention, send relevant materials, and suggestions on expanding on nursing training. All these changes will allow post-operative patients and other patients in general to improve their self-care abilities, rehabilitation techniques, and encouragement to actively participate in the rehabilitation of their disease process.
References
Holloway, A., & Watson, H. E. (2002). Role of self-efficacy and behavior change. International journal of nursing practice, 8(2), 106–115. https://doi.org/10.1046/j.1440-172x.2002.00352.x
Xu, S., Zhang, Z., Wang, A., Zhu, J., Tang, H., & Zhu, X. (2018). Effect of Self-efficacy Intervention on Quality of Life of Patients with Intestinal Stoma. Gastroenterology nursing: the official journal of the Society of Gastroenterology Nurses and Associates, 41(4), 341–346. https://doi.org/10.1097/SGA.0000000000000290
Orem's self-care model and Bandura's self-efficacy theory implied that patients who take greater care of their own medical care have less depression and are more motivated to promote and perform activities to improve or maintain health care (Maharjan & Davenport, 2019). Self-efficacy is one facet of psychosocial theory relating to my DNP project. Psychosocial adaptation to hemodialysis patients is as important as a physical condition in determining the quality of disease experience, adherence to treatment associated with adjustment, and psychosocial factors that may influence the mortality rate (Lee et al., 2019). Uncertainty has a negative impact on the psychological adaptation of hemodialysis patients, where a cognitive state happens when the outcome is difficult to predict.
Due to the complexity of the treatment process, personal perception of the disease changes on a continuum by failing to determine meaningful value. Social support has a direct impact on the adaptation and improving the quality of life of hemodialysis patients through depression, wherein the lower the recognized social support, the higher the suicidal thoughts. Coping is the process of managing a burdensome environment, and the use of effective coping strategies influences positive adaptation outcomes, such as improving psychological adaptation levels and improving quality of life (Lee et al., 2019). Self-efficacy is believed to affect the patient's quality of life.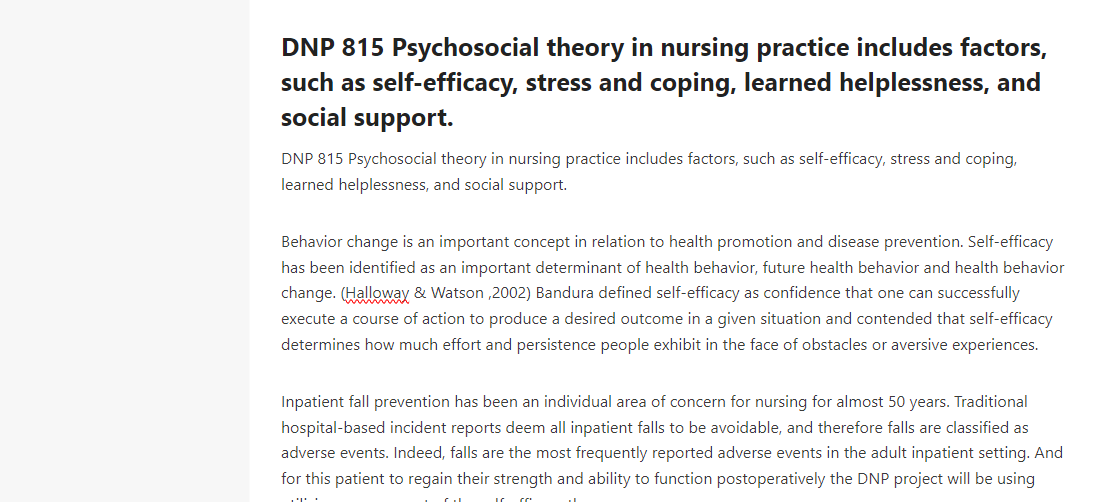 For hemodialysis patients, the stigma perceived as a disability and the psychological stress that death is imminent are factors of conflict or stress, and the use of effective coping strategies is needed to maintain balance in their life and improve outcomes.
References
Lee, K. S., Kim, H., Hai, M., Lee, K. S., Kim, H. Y., & Lee, M. H. (2019). Psychosocial adaptation influencers in hemodialysis patients. Korean Journal of Adult Nursing, 31 (1), 38- 49.
Maharjan, S. R. J., & Daveport, A. (2019). The effects of supported shared-care and hemodialysis self-care on patient psychological well-being, interdialytic weight gain, and blood pressure control. Hemodialysis International, 24 (1), 29-35.
For my DPI project, I am focusing on a method to improve a daily process that nurses utilize to communicate and promote continuity of care. This only works when the nurses have the desire to do what is best for their patients. This desire is driven by the psychosocial theory of self-efficacy, which, as said by Butts and Rich in 2018, results in greater commitment and true performance of a goal or action (Butts & Rich, 2018, chapter 18, p. 628). This is a great psychosocial theory to have as a foundation for a project that requires nurses to want to do their jobs the best way possible, which requires making goals and sticking to those and the actions required to complete their tasks. With self-efficacy, nurses ensure that their health and mindsets are up-to-par to be successful and productive in their daily activities. This means that nurses need to have the mindset to care for themselves and seek success in their future. This can be driven by the desire to help the public. With proper communication, safety amongst the clients and staff increases. This is the premise of the project itself. As nurses, we have the desire to keep our clients safe. This desire falls in the premise of self-efficacy where in which we want to do a good job for our clients and ourselves. With this desire, we need to ensure that we are communicating appropriately. That is where the project stems from.
Reference
Butts, J. B., & Rich, K. L. (Eds.). (2018). Philosophies and theories for advanced nursing practice (3rd ed.). Jones & Bartlett. ISBN-13: 9781284112245
Communication is a powerful tool that nurses use with patients, families, providers, ancillary departments, and the list goes on. Continuity of care is a crucial component of patient care that relies on effective communication. It allows healthcare providers to make treatment plans and create a supportive environment for the patient and family (Mata et al., 2021). Communication also provides for a collaborative relationship with all involved. Nurses can be trained on effective communication skills, but if they do not believe they can perform the skill successfully, they may not modify their behaviors in a way that makes them successful.
Nurses often think they do not have the time to add something else to their plate with something like a communication format. They are swamped and have much to accomplish in their day. One more thing almost seems impossible. I feel that this is what makes them believe that they cannot be successful. When educating them about a new communication tool, they must be made aware of how this will help them with better communication and how it might save them time down the road. They will not adopt the new behavior if they don't believe they can add one more thing to their day. Once they can see the benefits to their patient and their workload, they will see the successes and be more apt to implement.
References
Mata, Á. N., De Azevedo, K. P., Braga, L. P., De Medeiros, G. C., De Oliveira Segundo, V. H., Bezerra, I. N., Pimenta, I. D., Nicolás, I. M., & Piuvezam, G. (2021). Training in communication skills for self-efficacy of health professionals: a systematic review. Human Resources for Health, 19(1). https://doi.org/10.1186/s12960-021-00574-3
As my future project is based on advanced directives, I was interested in understanding the concept of death. It is a matter of life most often associated with individuals of old age, chronic conditions, and or unexpected terminal illness. We often think and plan for the future and omit what the end will look like. Our cultural beliefs and life experiences with death affect how we perceive this event. Most often, it causes us to have a feeling of grief, sadness, and confusion. Other prospective that can influence death include but are not limited to age, culture, socioeconomical status, and previous experiences with death. As we can see, many factors affect this complex and sensitive manner externally and internally. Due to this, advance directive planning can be challenging as it can be an intimidating conversation that will eventually turn into a legal document. A psychosocial theory that can assist in further understanding how to manage a conversation of end-of-life decisions is Erickson's theory of psychosocial ego development. Sekowski (2022) explains that in young adulthood (Intimacy vs. Isolation), death is silenced and is only in the preconscious. At times it will break into the couscous state when making decisions about significant life changes. In middle adulthood (Generativity vs. Stagnation) is associated with crisis, breakthrough, and the transition into confronting the possibilities of our death and those of others (Sekowski, 2022). The first signs of aging begging to occur as individuals are creative, productive, and establishing next generations. In the old age stage (Ego integrity vs. Despair), death is often recognized as a natural part of life (Sekowski, 2022). The ego can sense a person's wisdom, while others can cause terror (Sekowski, 2022). This is ultimately based on an individual's perspective on successful aging, this means if they were able to achieve and or experience the things they desired in a lifetime. This information is essential for the future direct practice improvement to understand the approach to take with patients in initiating this sensitive conversation. This data can assist the learner in identifying what potential factors may present and understand behaviors to formulate a plan for an effective approach. The theory can also serve as a guide to help the learner assist participants master tasks, they may have previously failed (Maree, 2021).
References:
Maree, J. G. (2021). The psychosocial development theory of Erik Erikson: critical overview. Early Child Development and Care, 191(7–8), 1107–1121.
Sekowski, M. (2022). Attitude toward death from the perspective of Erik Erikson's Theory of psychosocial ego development: an unused potential. Omega: Journal of Death & Dying, 84(3), 935–957. https://doi.org/10.1177/0030222820921604
I have changed the topic of my project, and should it all be approved, the topic will be implementing point-of-care troponin testing in the ED for patients presenting with chest pain and a HEART score of 0-3 (which would indicate low risk) and the impact to ED length of stay (LOS). In looking at different theories that would fit the DPI project, one related is Bandura's theory of Self-Efficacy. This theory is described as having the confidence to perform the skills needed to accomplish the desired goal (Klassen & Klassen, 2018). There are three characteristics of Bandura's theory: one's belief regarding future actions instead of past actions, one's belief about their capabilities, and field specificity.
In healthcare, various skills are needed to ensure that the patient has the best health outcomes. Self-efficacy is the basis for the motivation for achievement. One's belief in self-efficacy is essential in changing behavior (Kim & Sohn, 2019). In looking at ED LOS, many factors play into triage and appropriate care. Having the self-confidence to make decisions in triage can save people's lives. However, providers need the tools to give them the necessary information to make those decisions, and this change would be using POC testing instead of waiting on laboratory testing. At first, it may seem premature to discharge a patient without waiting on tests that are typically drawn and sent to the lab. However, the evidence shows that the low-risk patients are not at an additional risk of being discharged using POC troponin testing if they have already been determined to be low risk.
References
Kim, M. S., & Sohn, S. K. (2019). Emotional Intelligence, Problem Solving Ability, Self Efficacy, and Clinical Performance among Nursing Students: A Structural Equation Model. Korean Journal of Adult Nursing, 31(4), 380. https://doi.org/10.7475/kjan.2019.31.4.380
Klassen, R. M., & Klassen, J. R. L. (2018). Self-efficacy beliefs of medical students: a critical review. Perspectives on Medical Education, 7(2), 76-82. https://doi.org/10.1007/s40037-018-0411-3
Although hemodialysis (HD) is an established, life-sustaining treatment for end-stage kidney disease, HD imposes many restrictions on patient lifestyle, not only in attending to dialysis treatments regularly but also in compliance with dietary and fluid intake restrictions and drug medications. Because only a minority of patients are suitable for transplantation, HD is for life for many patients. Not surprisingly, patients with chronic ill-health conditions frequently report relatively high levels of self-reported depression. Although the absolute rates of clinically diagnosed depression are much lower, three self-reported depression is associated with increased overall mortality.
Several psychological theories, including the becoming human theory, Bandura's self-efficacy theory, and Orem's self-care model, have suggested that patients who take more excellent care of their medical care have less depression and are more motivated to perform and promote activities designed to maintain or improve health care (Chilcot, J., et, al 2018) Indeed, studies in other chronic health-care conditions, diabetes mellitus, and congestive heart failure have reported that patients who take greater control of their medical care reported a reduction in emotional burden, short-term improvements in glycemic control, overall quality of life, and short-term changes in self-reported self-management skills predicted intermediate-term changes in improved mental quality of life and long-term changes in better physical quality of life.
Shared Hemodialysis Care (SHC) describes an initiative in which center-based hemodialysis patients are supported by dialysis staff to become as involved as they wish in their care (Maharjan & Davenport, 2020). This approach can beneficially impact several healthcare domains, including patient-centeredness, equity of access, patient safety, timeliness, treatment effectiveness, and resource use efficiency. This is particularly important for my DPI project with a patient population with End-Stage Renal Disease (ESRD) patient education program on diet and fluid restriction requires behavioral changes. Patient and professional satisfaction is thought to be increased as the relationship is expanded to focus on the person, their life, and the patient's other health problems. Patient engagement in long-term conditions where patients are fully activated (engaged and involved) with their health is an essential strategy for effective management of health resource use.
Chilcot, J., Guirguis, A., Friedli, K., Almond, M., Day, C., Da Silva-Gane, M., Davenport, A., Fineberg, N. A., Spencer, B., Wellsted, D., & Farrington, K. (2018). Depression
Symptoms in Haemodialysis Patients Predict All-Cause Mortality but Not Kidney Transplantation: A Cause-Specific Outcome Analysis. Annals of behavioral medicine: a publication of the Society of Behavioral Medicine, 52(1), 1–8. https://doi.org/10.1007/s12160-017-9918-9
Maharjan, S. R. S., & Davenport, A. (2020). The effects of supported shared‐care and hemodialysis self‐care on patient psychological well‐being, interdialytic weight gain, and blood pressure control. Hemodialysis International, 24(1), 29-35.
Erikson maintained that personality develops in a predetermined order through eight stages of psychosocial development, from infancy to adulthood. Erikson's Stages of Psychosocial Development is a theory introduced in the 1950s by the psychologist and psychoanalyst Erik Erikson. Stages arise as individuals grow and face new decisions and turning points during childhood, adolescence, and adulthood. Each stage is defined by two opposing psychological tendencies, one positive/syntactic and negative/dystonic. From this develops an ego virtue/strength or maldevelopment, respectively. During each stage, the person experiences a psychosocial crisis which could have a positive or negative outcome for personality development. According to the theory, successful completion of each stage results in a healthy personality and the acquisition of basic virtues. Basic virtues are characteristic strengths that the ego can use to resolve subsequent crises. Failure to successfully complete a stage can result in a reduced ability to complete further stages and therefore a more unhealthy personality and sense of self.
Covid has cause very negative stress to work environments. According to Flaskerud (2021), The fear and anxiety caused by an infectious disease can be devastating if not appropriately identified and managed. Due to the sudden outbreak of the disease, we do not know what nurses experience when caring for patients with COVID-19, especially during the situation where nurses are sent away from their usual work environments to work in the epicenter. These nurses have been working in the epicenters for more than a month now. It is essential to understand the psychological changes in these nurses and ways to manage their stress. This information is urgently needed by nurse leaders to design plans for stress management and interventions to maintain nurses' psychological well-being. The purpose of this study is to examine the psychological experience and change process of nurses in the epicenter of COVID-19 and to provide strategies that nurses could use to handle their stress.
Orenstein GA, Lewis L. Eriksons Stages of Psychosocial Development. [Updated 2021 Nov 14]. In: StatPearls [Internet]. Treasure Island (FL): StatPearls Publishing; 2022 Jan-. Available from: https://www.ncbi.nlm.nih.gov/books/NBK556096/
Jacquelyn H. Flaskerud. (2021) What Now? Health Challenges for 2021. Issues in Mental Health Nursing 42:3, pages 299-303.
Social support is the factor that is related to my DNP project. For the maintenance of good physical and mental health, positive social support is effectively important for patients on hospice. It has been reviewed in the literature that positive social support is significantly
increasing the resistance to stress and providing protection against the development of trauma-associated psychological issues in addition to reducing the functional implication of psychological disorders such as post-stress disorders, morbidity, and mortality (Alsubaie et al.,2019).
There is a correlation between the optimal source of social support and developmental stages of the individual including the matters of healthcare. For instance, in the early childhood period, the social support of the parents is valuable as compared to in the later stages of life. In this way, it can be said that the concept of social support is associated with the intensity of social interaction in the elderly, and with instruments, it is important at a young age. Furthermore, the different forms of social support become more important in releasing the stress for individuals living alone and suffering from diseases or struggling with poor fate. Social isolation is a curse for individuals with poor physical and psychological health. There are more chances of these individuals to be indulged in risky behaviors and ruined their lives.
According to investigators social support at different levels and in different forms is effective to reach out to such individuals in the prevention of negative appraisals and increasing treatment adherence. There is some evidence that states the use of active coping mechanics to reduce the impact of stressful situations in life but social support nevertheless eliminates the
harsh impact of such situations on the individual. A time log is also a technique effective in coping with the harsh issues related to healthcare but the presence of social support along with active coping mechanics serve as a catalyst (Bukhari & Afzal, 2017).
References
Alsubaie, M., Stain, H. and Wadman, R. (2019). The role of sources of social support on depression and quality of life for university students. International Journal of Adolescence and Youth, 484-496 https://doi.org/10.1080/02673843.2019.1568887.
Bukhari, R., & Afzal, F. (2017). Perceived social support predicts psychological problems among university students. The International Journal of Indian Psychology, 2349–3429.