DNP 815 Propose a health behavior change theory that corresponds to your DNP Project
DNP 815 Propose a health behavior change theory that corresponds to your DNP Project
DNP 815 Propose a health behavior change theory that corresponds to your DNP Project
Behavior health theories are the psychological explanation of how behaviors are associated with the environment and or specific events. Butts and Rich (2017) explain that health behavior is helpful in planning patient and family education for disease prevention. A theory that best fits the direct practice improvement (DPI) project is the social cognitive theory (SCT). The SCT explains that individuals have experiences and observe the actions of others (Butts & Rich, 2017). A strategy included is role modeling, where individuals who are successful model behaviors for those who are learning (Butts & Rich, 2017). The theory believes that learning occurs with the interaction between the individual, environment, and behavior (Butts & Rich, 2017). In the future DPI, the SCI, the implementation of Five Wishes as an advance directive is a tool that in the primary care setting aims to be used in case of future emergencies. This behavior will assist in planning and serve as an education to prevent future stress, improve patients' satisfaction, and provide assurance in care that is culturally competent. Those involved will learn from a provider the importance of an advance directive. In this case, we can identify the provider as a role model for those who are educated on advanced directives and guided through the process of completing the Five Wishes document.
The SCT has been proven to be effective. Edwards et al. (2018) used this theory in a study that focused on breastfeeding with the idea that if a person is encouraged that they can do something, the effort can be higher. The study sample included 31 women, 13 did not attend, and 18 midwives (Edwards et al. 2018). The study identified that women who are supported to breastfeed babies in the first 24-48 hours and have successful breastfeeding during the first week of birth increase their perceived ability to breastfeed (Edwards et al. 2018). Somsak & Chawapon (2019) focused on how SCT would foster healthy activities in patients with diabetes. It was discussed in this group that social support, health beliefs, and self-efficacy play a role in changing behaviors for improved health (Somsak & Chawapon, 2019). The study concluded that SCT is an effective tool when changing health behaviors and can also be used in other health scenarios (Somsak & Chawapon, 2019).
References:
Butts, J. B., & Rich, K. L. (2017). Philosophies theories and for advanced nursing practice (3rd ed.). Jones & Bartlett Learning.
Edwards, M. E., Jepson, R. G., & McInnes, R. J. (2018). Breastfeeding initiation: An in-depth qualitative analysis of the perspectives of women and midwives using Social Cognitive Theory. Midwifery, 57, 8–17. https://doi.org/10.1016/j.midw.2017.10.013
Somsak, T., & Chawapon, S. (2019). The Social Cognitive Theory with Diabetes: Discussion. International Journal of Caring Sciences, 12(2), 1251–1254.
The ultimate success of effective preventive and treatment regimens depends on the patient's willingness to initiate and maintain recommended behaviors. Behavioral scientists dedicated extensive effort to justifying and predicting any health-related decisions of patients, which has resulted in the development and widespread application of a number of individual-level behavior change theories. The theory of planned behavior proposes that intention is the best behavior predictor. Behavior change theories highlight the complexity of making and sticking to health-related behavior changes (Barley & Lawson,2016).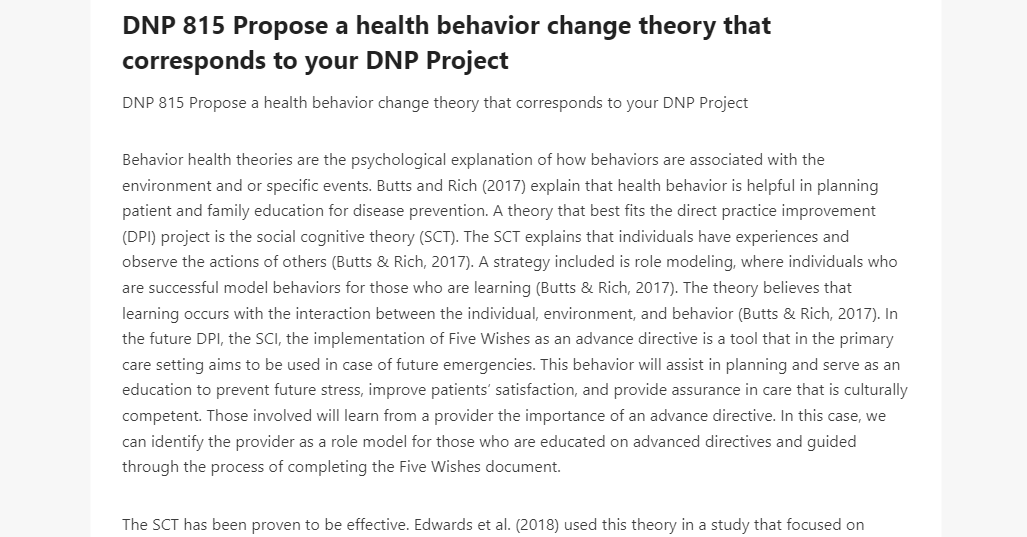 Hemodialysis patients experience a lot of issues in self-care behavior. Change in behavior can be effective in self-care behavior with educational intervention. There are several pieces of evidence that lack of knowledge and awareness in patients with self-care behavior, such as taking care of vascular access to prevent bloodstream infection, led to clinical outcomes resulting in different complications and death (Ramezani et al., 2019). Since hemodialysis is a long-term process, patients need to manage their disease properly. Increasing self-efficacy in hemodialysis patients decreases hospitalization and improves the quality of life. Self-efficacy theory is based on the person's judgment about themselves in managing self-care activities, creating a bridge between self-care knowledge and behavior (Ramezani et al., 2019). Based on the study, it seems that the Self-Efficacy Theory is effective in making patients believe they can adopt self-care behaviors (Ramezani et al., 2019). The theory leads to an improvement in patients' self-care behaviors promoting physical and mental health in hemodialysis patients.
References
Barley, E., & Lawson, V. (2016). Using health psychology to help patients: theories of behavior change. British Journal of Nursing, 25(16), 924–927.
Ramezani, T., Sharifirad, G., Rajati, F., Rajati, M., & Mohebi, S. (2019). Effect of educational intervention on promoting self-care in hemodialysis patients: applying the self-efficacy theory. Journal of education and health promotion, 8.
It is a fact that the health-related problems of older adults depend upon behavior choices. It is challenging for clinics to support their patients in adopting healthy behavior. The Health Action Process Approach (HAPA) is a social cognition model. The aim of this model is to modify, describe and explain health behavior (Schwarzer, 2020).
Five Principles:
Principle 1: Motivation and volition: The behavior change process is divided into two phases. The first phase is motivation. In his phase, people develop the intention. The second is the violation phase.
Principle 2: Two volitional phases: In this principle, there are two types of people, those who did not translate intention into action and others who did this. There are also active and inactive people include in this phase.
Principle 3: Post intentional planning: This phase includes the intenders who are in the volitional practical stage. These
intenders motivated to change, cannot do so because they lack the skills to translate their intention into action. The most important strategy at this phase is planning. It works as an operative mediator between behavior and intention.
Principle 4: Two kinds of mental simulation: There are two types of planning. 1) Coping planning 2) action planning Action planning includes when, how, and where intended actions. Coping planning includes barriers anticipation and
selecting alternative actions to achieve goals.
Principle 5: Phase-specific self-efficacy: Self-efficiency is necessary for the whole process but nature is different from one phase to another. It is due to various challenging people are facing in a different phase.
Assessment of Constructs:
Assessment of the constructs includes Risk Perception. Outcome Expectancies Self-efficacy. Intention. Planning
Action control Staging (Schwarzer, R. (2016).
Conclusion:
In sum, Health Action Process Approach has two layers: phase layer and continuum layer. HAPA allows the pretenders to make different choices. HAPA is not a traditional model but a principle-based model that provides different approaches. Evidence shows the best results for those older people who suffer from chronic diseases.
References:
Schwarzer, R. (2016). Health action process approach (HAPA) as a theoretical framework to
understand behavior change. Actualidades en Psicología, 30(121), 119-130.
Schwarzer, R., Hamilton, K. (2020). Changing behavior using the health action process
approach. The handbook of behavior change, 89-103.
When our hospital went to bar-coding, we went through Lewin's Change Theory process of unfreezing, moving, and refreezing without difficulty. However, when we changed to a different program for barcoding, we unfroze, but we did not move. We switched from the scanning attached to the workstation on wheels (WOW) to a handheld phone that would complete the bar scanning and included the medication administration record (MAR). With unfreezing, we communicated the ideas and the education needed to make the change. The problem came with the moving stage. Change in practice just never happened. Unfortunately, multiple errors were made due to the new process; processes changed and continued errors. The nurses got to a point where lines of communication broke down primarily because they did not trust the new process and just went back to using the scanners on the WOWs, which had not been taken away. Handheld devices just became a means of communication.
Using a Plan-Do-Check-Act (PDCA) is an integral part of any change and must be included in the moving stage of Lewin's theory (Teguh et al., 2019). I'm not sure that we planned appropriately for the needed dialogue that should have happened for the nurses to trust that the problems would be addressed promptly. When nurses are busy giving many medications that can impact a patient's life, their concerns must be addressed quickly and continuously, especially through such a significant change. This happened years ago. We are working towards another change with barcoding equipment, but this time, the team is planning for the rapid assessment and updates needed based on the process. I am hopeful that we can go through the entire process and refreeze with a new product that will be more beneficial to the staff.
References
Sutherland, K. (2013). Applying Lewin's Change Management Theory to the Implementation of Bar-Coded Medication Administration. Canadian Journal of Nursing Informatics 8(1), http://cjni.net/journal/?p=2888
Teguh, A., Sri Hariyati, R. T., & Muhaeriwati, T. (2019). Applicability of Lewin's Change Management Model for Optimization Management Function in Nursing Delegation Between Head Nurse and Team Leaders: A Mini Project in Jakarta Military Hospital. International Journal of Nursing and Health Services (IJNHS), 2(2), 66-74. https://doi.org/10.35654/ijnhs.v2i2.136
For my project, I found a theory/change model that seems to be applicable and appropriate. Roger's Theory Change Model, also known as Innovation Diffusion Theory. As said by Udod and Wagner is 2018, this theory is a way to implement new processes into nursing practice and involves five steps: knowledge, persuasion, decision, implementation, and confirmation. This theory is primarily applied to individual education; however, this learner can translate this into the education of a unit or facility as a whole. In knowledge, the staff on the unit will be introduced to the new process of standardized handover. During the persuasion step, the staff on the unit will be educated on how to appropriately utilize a standardized format for handover. In the decision step, the unit managers and staff would weigh the pros and cons with appropriate evidence-based research to back up the utilization of standardized handover and determine the appropriateness of the implementation in their unit. With the implementation stage, this staff will begin utilizing the new process and data will be gathered. In the final step, the staff, managers, and this learner will determine if the implementation was truly beneficial. The facility will then either implement this into practice permanently or nix it all together (Udod & Wagner, 2018).
References
Udod, S. A., & Wagner, J. (2018). Common Change Theories And Application To Different Nursing Situations. Go to the cover page of Leadership and Influencing Change in Nursing. Retrieved July 17, 2022, from https://leadershipandinfluencingchangeinnursing.pressbooks.com/chapter/chapter-9-common-change-theories-and-application-to-different-nursing-situations/
In working with patients requiring a health behavior change, the Social Cognitive Theory (SLT) may aid healthcare providers with that change. The SLT is since people learn from their own experiences and others through observations and witnessing the results of decisions others make (Butts & Rich, 2018). Some components of the SLT include self-control, reinforcing behaviors, and self-monitoring. Healthcare providers can help patients by setting smaller goals that one can achieve, setting goals with rewards, monitoring patients' behavior, and reinforcing their progress. This can be accomplished through the patient's self-monitoring and keeping records. Self-efficacy is also an essential component of SLT. To make necessary behavior changes, a person must be confident in making the actions needed for change even when encountering obstacles and challenges.
In looking at patients with congestive heart failure (CHF), many changes need to be made with diet, exercise, monitoring weight, and acknowledging an increase in signs and symptoms. Nurses assessing self-efficacy in a patient is an essential part of nursing practice (Como, 2018). Allowing patients to have goals in the practice setting, whether hospital, clinic, or community, may enable them to achieve those goals and succeed. Success in these small goals will give them the self-confidence to do more for themselves, improving patient outcomes. Education alone is insufficient to ensure compliance with a new lifestyle with any chronic illness. Understanding one's abilities to deal with such a life-changing diagnosis is the key to success, and as nurses, we can help aid them in recognizing their abilities.
References
Butts J. B., & Rich, K. L. (2018). Philosophies and Theories for Advanced Nursing Practice (3rd ed.). Jones & Bartlett Learning, LLC. https://bibliu.com/app/#/view/books/9781284112306/epub/EPUB/xhtml/22_Chapter11.html#page_361   Como, J. (2018). Health Literacy and Health Status in People With Chronic Heart Failure. Clinical Nurse Specialist, 32 (1), 29-42. https://oce-ovid-com.lopes.idm.oclc.org/article/00002800-201801000-00008/HTML
Psychological theories often focus on conscious and unconscious processes of thoughts and emotions that influence behaviors. Health psychology investigates the rationale behind why change behavior is difficult in an individual and proposes support that health professionals can provide (Mazzei, 2022). Nursing theories are often developed in the field of nursing and guide nursing practice. The health belief model (HBM) proposed by Rosenstock (1966) and Becker (1974) is the health behavior change theory that I am proposing that corresponds to my DNP Project. The theory is rooted in the positivist epistemological paradigm which dictates that the project follows that path of deductive or quantitative methodology.
Given that problems can be identified and measured, behavioral interventions aimed at evaluating and assessing whether treatment is effective through the use of data gathering instrument, survey or tested instrument. Further, Mazzei (2022) noted that "the Health Believe Model (HBM) predicts that the decision to change behaviour follows a 'cue to action'" (p. 924). The model, amplifying the behavioral theory, posits that humans are rational beings, mechanistic in nature, and influenced by their environment (Butt & Rich, 2017). With this underlying, behavior can be defined, broken down, and measured. Much of the studies conducted using the Health Believe Model (HBM) uses surveys, which form the basis of what is known about health care and public health.
References
Butts, J. B., & Rich, K. L. (2017). Philosophies theories and for advanced nursing practice (3rd ed.). Jones & Bartlett Learning.
Mazzei, M. (2022). Borrowed theory (nursing). Salem Press Encyclopedia of Health.
Behavioral science represents one such broad method of mitigation. The importance of encouraging adaptive and protective behavior change in response to public health emergencies is emphasized by the World Health Organization (WHO), who provide risk communications guidelines designed to encourage individuals, families, and communities to act to protect themselves. Research in the behavioral sciences has focused on identifying barriers and facilitators to maximizing public compliance with recommended emergency response and infection prevention behaviors. In dialysis patients change modifications is key to extension of life. Using change models will help the nursing staff have a bettor grasps on the patients outlook and implementation initiatives.
A conceptual merger between health behavior change HBC theories and rehabilitation practice can have major implications for individuals with disabilities, their functioning, health, and well-being. An array of behavior changes techniques (BCTs) has been developed to support behavior change initiation and maintenance. These BCTs often show limited success when they are not informed by theory, leading to a mismatch between the intention of the BCT and patients' needs or expectations. Michaelson (2022), suggest that many chronic diseases can be improved, or prevented, through health behavior changes, such as increased physical activity, healthy eating, relaxation strategies, as well as adequate stress- and self-management, social support networks, a good work-life-balance, and the like. this allows presenting a novel framework of behavior change that is centered on a patient's resources; the Behavior Change Resource Model (BCRM). By focusing on resources rather than barriers, faults and shortcomings, we stress positive aspects of human functioning and flourishing on multiple dimensions.
Michaelsen, M. M., & Esch, T. (2022). Functional Mechanisms of Health Behavior Change Techniques: A Conceptual Review. FRONTIERS IN PSYCHOLOGY, 13. https://doi-org.lopes.idm.oclc.org/10.3389/fpsyg.2022.725644
Weston, D., Ip, A. & Amlôt, R. Examining the application of behaviour change theories in the context of infectious disease outbreaks and emergency response: a review of reviews. BMC Public Health 20, 1483 (2020). https://doi.org/10.1186/s12889-020-09519-2
Zachary D. Rethorn, Janet R. Bezner & Cherie D. Pettitt (2021) From expert to coach: health coaching to support behavior change within physical therapist practice, Physiotherapy Theory and Practice, DOI: 10.1080/09593985.2021.1987601
Nurses constitute a massive group of practitioners responsible for providing clinical services, but ongoing advances in medical sciences point to the reality that the effectiveness of a nurse's knowledge and the lifespan of information are short-lived and that previously learned content increasingly become obsolete. The Rogers's diffusion of innovation model is a behavioral health theory model that acknowledges knowledge being produced when an individual is exposed to an existing innovation and acquires some understanding about its mechanisms and functions. This health behavior change model relates to my project as nurses will need to make practice changes in their resuscitation efforts to help gain successful outcomes. Kaminski explains that the Diffusion of Innovation Theory was first discussed historically in 1903 by the French sociologist Gabriel Tarde. Stages of persuasion and decision must be considered prior to obtaining adaption. Adoption means that a person does something differently than what they had previously.
Dearing suggest that for individuals to reach the Persuasion stage, the individual must form a view toward the innovation based on its perceived attributes. As we implement this new initiative, we encourage staff to participate in post discussions and give performance feedbacks. For Decision to occur, the individual must be involved in an activity that would ultimately require him or her to make a choice between using or dismissing the innovation. For Adoption to occur, the individual must arrive at the decision that the innovation is the best available option for moving forward. When promoting an innovation, there are different strategies used to appeal to the different adopter categories.
Moller, A. C., Merchant, G., Conroy, D. E., West, R., Hekler, E., Kugler, K. C., & Michie, S. (2017). Applying and advancing behavior change theories and techniques in the context of a digital health revolution: proposals for more effectively realizing untapped potential. Journal of behavioral medicine, 40(1), 85–98. https://doi.org/10.1007/s10865-016-9818-7
Dearing J. W., Cox, J.G. (2018). Diffusion Of Innovations Theory, Principles, And Practice. Health Affairs 2018 37:2, 183-190
Kaminski, J. (Spring 2011).Diffusion of Innovation Theory Canadian Journal of Nursing Informatics, 6(2). Theory in Nursing Informatics Column. https://cjni.net/journal/?p=1444
Health behaviors are influenced by an individual's personal beliefs, perceptions, and access to resources. When assessing the likeliness of a person to change their health behaviors a health behavior change theory can be used as a guide. The health behavior change theory that corresponds to my DNP project is the Transtheoretical Model (TTM). The project will determine if virtual reality decreases pain scores in hospitalized adults. The TTM Model of Behavior Change states that there are six stages of health-related behavior change that hold true in both physical and virtual settings (Carol et al., 2021). The six stages are: precontemplation where the patient is not considering taking any action; contemplation where the patient begins to recognize the behavior might be unacceptable; preparation is the stage that the patient is ready to take action; action is where the patient has made observable changes and they intend to keep moving forward with the change; maintenance represents sustainment of the change; termination is the final stage in which the patient has no desire to return to their previous state (Boston University, 2019). In reference to the DNP project clinicians only use pharmaceuticals to manage pain in the inpatient setting. In applying the TTM theory, the clinicians would progress through the six stages of change. In the beginning, they would need to accept or realize that pain management is a problem. They should also understand that virtual reality is a proven alternative approach to managing pain. Once this is done, they will likely be more susceptible to implementing virtual reality as an intervention for pain. If the patients consistently report decreased pain scores post implementation, then the clinicians will be able to see the benefits of including this alternative approach in the management of their patients. Clinicians could also spread this as a best practice to other patient populations and the new standard for pain management would be inclusive of virtual reality. Overall, this model shows that change is a process that happens over a period of time. It should also be stated that the time it takes for patients to progress through each stage will vary.
Reference
Boston University. (2019). Behavioral change models. The Transtheoretical Model (Stages of Change). Retrieved August 5, 2022, from https://sphweb.bumc.bu.edu/otlt/mph-modules/sb/behavioralchangetheories/behavioralchangetheories6.html
Carroll, J., Hopper, L., Farrelly, A. M., Lombard-Vance, R., Bamidis, P. D., & Konstantinidis, E. I. (2021). A scoping review of augmented/virtual reality health and wellbeing interventions for older adults: Redefining immersive virtual reality. Frontiers in Virtual Reality, 2. https://doi.org/10.3389/frvir.2021.655338