DNP 815 Describe a recent or current ethical issue you have faced in nursing practice or which has attained national attention
DNP 815 Describe a recent or current ethical issue you have faced in nursing practice or which has attained national attention
DNP 815 Describe a recent or current ethical issue you have faced in nursing practice or which has attained national attention
An ethical issue paced in nursing practice is inadequate resources and staffing. This ethical issue has affected health care providers across the board. The problem was already presented before COVID; however, the pandemic made this problem more evident. The lack of appropriate staffing ratios places patients at risk of not receiving the care they need. Yang et al. (2021) studied 35 studies and found evidence of how patients were negatively impacted. Lower nursing staff have a higher association between death and falls (Yang et al., 2021). Patients with a surgical procedure were found more likely to die secondary to the nursing care received versus the procedure and or comorbidities (Yang et al., 2021).
Nurses in these scenarios are forced to make extremely difficult decisions. During the pandemic, frontline workers not only had to take care of these complicated cases but also placed personal health and safety at risk. Health care workers were expected to care for patients despite the limited personal protective equipment. This event caused a physical, emotional, and mental health burden to patients and those involved in providing services. The American Nurses Association acted and urged the administration to take immediate action to short- and long-term solutions in 2021 (ANA's proposed policy solutions to address the nurse staffing shortage crisis, 2021).
Ethical theories applicable to these issues are beneficence. Health care professionals had to place aside personal worries and risks to care for the communities. Nurses did not think about potential lawsuits from working in these compromising situations. At that time, providing care was an obligation due to the evident shortage. Opting to provide services was in the patient's best interests.
Staffing and limited resources can cause potential ethical issues in future direct practice improvement. The primary care clinic is in a rural area of Arizona. As a clinician is obligated to improve and protect the patient's wellbeing when practicing beneficence, this is a theory the project is based on (Bester, 2020). Despite limitations, the idea is to improve patient clinical outcomes with the project. To not burden staff, the project is expected to not interfere with current workflows. The learner hopes to create a simple non-tedious process, answer questions, and address concerns on the project.
References:
ANA's proposed policy solutions to address the nurse staffing shortage crisis. (2021). South Carolina Nurse, 28(4), 10–11.
Bester, J. C. (2020). Beneficence, Interests, and Wellbeing in Medicine: What It Means to Provide Benefit to Patients. The American Journal of Bioethics : AJOB, 20(3), 53–62. https://doi.org/10.1080/15265161.2020.1714793
Yang, B. K., Carter, M. W., & Nelson, H. W. (2021). Trends in COVID-19 cases, deaths, and staffing shortages in US nursing homes by rural and urban status. Geriatric Nursing, 42(6), 1356–1361. https://doi-org.lopes.idm.oclc.org/10.1016/j.gerinurse.2021.08.016
They need to be present all day, month, and even the year. It is nevertheless nurse practitioners are performing the most hectic jobs in the world and they are exposed to more ethical dilemmas as compared to other professionals in their workplace. According to studies conducted on ethical dilemmas in nursing, it is observed the most frequently occurring ethical issues are related to rights, staffing, advanced care planning, and making the right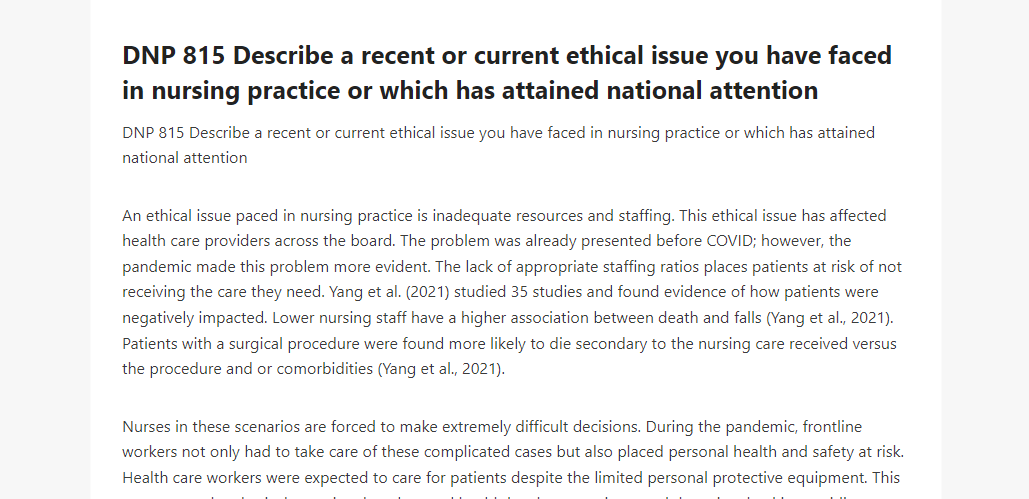 decisions (Morrell et al., 2019 ). The inexperienced nurses are further exacerbating the situation due to a lack of knowledge and training. This creates the most challenging situation for the experienced nurses to deal with issues with healthcare needs in healthcare facilities. Following is the example of the most common ethical issue faced by the manager nurses in their job location. To deal with the medical complexities of chronic patients the practitioners or nurses need to collect medical information not only from patients but also from their family members. But in
most cases, the family members and even the patients are reluctant to share their medical information and create a dilemma for nurses in terms of disseminating accurate information and protecting their emotions. They undergo apprehension while deciding the dissemination of information without going against the beliefs of the patients and their family members.
According to the ANA code of ethics, the significant factor in the nurse-patient relationship is
telling a truth. In such a situation the nurse practitioners may undergo distress when they are incapable of translating their moral ethics into moral activities. The practical application of AACN nursing theory at this point can help the nurse managers to avoid moral disturbance by asking, affirming, assessing, and acting following the moral values while collecting and disseminating information from the patients. The development of an ethical care environment
will further help the nurse managers to avoid moral distress and collecting the maximum possible
information from the patients (Morrell et al., 2019 ). It is because of the fact the dissemination of accurate information will help to avoid the dissatisfaction of the patients. Thus, nurse capability of dealing with ethical dilemmas in the workplace using their experience and training can help them to take benefit of establishing professional limitations with their patients.
References
Bruchem-Visser, Z., Dijk, G., Beaufort,I. and Mattace-Raso,F. (2020). Ethical frameworks for complex medical decision making in older patients: A narrative review. Archives of Gerontology and Geriatrics, 104-160, https://doi.org/10.1016/j.archger.2020.104160.
Morrell, J., Konda, S.and Grant-Kels, M. . (2019 ). Response to a letter to the editor regarding "The ethical issue of cherry-picking patients. J Am Acad Dermatol, e127.
Inadequate resources and staffing
Although this may not be an ethical issue put on individual nurses, healthcare executives and nurse managers should understand the lack of resources and inadequate staffing regarding patient care. As healthcare costs continue to rise, nurse managers are at odds regarding budgeting constraints and patient needs. When medical facilities have scarce resources, patients are at risk of not receiving proper care leaving nurses to make difficult decisions.
Hard decisions may also need to be made when facilities are faced with inadequate staffing levels. When there is not enough staff for patients, nurses do not have the time to do everything needed for each patient. Patient needs can include recovery times or even addressing the patient's emotional and physical needs. A nurses' moral obligations to patients are compromised due to work restraints and stress overload. They are left with mental struggles trying to decipher where they should focus their priorities.
This study revealed a gap between nurses' thoughts and practices through the ethical decision-making process. They failed to lead their thought to moral practice. It also implies that moral sensitivity could positively affect nurses' ethical decision-making. To make nurses morally sensitive, exposing them to various clinical cases would be helpful. Additionally, ethics education and clinical ethics supporting services are valuable for improving nurses' ethical decision-making. If nurses improved their ethical decision-making regarding end-of-life care, their patients could experience a better quality of death.
Reference
Abou Hashish E. A. (2017). Relationship between ethical work climate and nurses' perception of organizational support, commitment, job satisfaction and turnover intent. Nursing ethics, 24(2), 151–166. https://doi.org/10.1177/0969733015594667
Currently, there are several ethical issues arising in the country. One that has become prominent in the medical field is the hot topic of abortion. Now, Roe v. Wade seems to have the greatest impact on abortion in general. Roe v. Wade being overturned allows states to make their own laws regarding abortion and when and what is legal. Now, the problem is the public is only focusing on the fact that this law is affecting abortion, but in truth, these new laws will cause many more complications for clients and healthcare providers than the general public realizes. According to Robins and Tipton, in 2022, there is a chance for the new laws to affect the fertility assistance that many of the general public rely on to reproduce. In Robins' and Tipton's article, they go over some specifics, such as the freezing of blastocyst in a cryopreservation tank. In this process, there is about a one percent chance of the blastocyst not surviving the process. Does this, in accordance with the new laws, fall under homicide? Can a doctor become legally punished for attempting to help a couple create a life that would otherwise not be possible due to the chance of a poor outcome? Is this going to stop fertility options in several states in the country? The authors discuss an ethical complication as these new laws violate a client's constitutional right to privacy (Robins & Tipton, 2022). In terms of ethical theories that this overturn plays a part, there is a paramount one, and that is rights, as said by Chonko (Chonko, n.d.). The rights of several individuals are being changed with the overturning of this ruling, as states will now dictate what women are and are not allowed to do with their bodies based on state legislation. This is an ethical concern as clients should be allowed to make decisions about their own bodies without concern of what the law may or may not say. But on the flip side of this ethical dilemma, there is a concern for providers. Providers are now put in an uncomfortable position where they are unsure when they can or cannot step in for fear of negative precautions based on their actions. For example, if a client has a situation where termination of the pregnancy is necessary, providers now have to jump through hoops to ensure that he or she does lose their practicing abilities or end up in jail due to a change in laws. This is a very controversial topic that will take quite some time for states, the public, and providers to adjust to.
As for my DNP project, there may be some ethical concerns concerning the autonomy standpoint nurses typically have. As it stands right now, nurses can give reports in whatever method best suits them as long as the information is passed on; however, there is no control. With this lack of control, there is a chance of something being missed. I plan to standardize handoff to allow for an easier report and decrease errors. By standardizing the handoff process, I am taking the autonomy of the nurses away in a sense, which can cause some issues for some, if any. The best way I can address this is to have a tool prepared that allows the nurses to utilize it in their own way while also ensuring that they include the necessary information on the tool itself, thus ensuring all relevant information is included.
References
Chonko, L. (n.d.). Ethical Theories. dsef.org. Retrieved July 30, 2022, from https://www.dsef.org/wp-content/uploads/2012/07/EthicalTheories.pdf
Robins, J., & Tipton, S. (2022). Not just abortion: How the demise of Roe v Wade may impact fertility care. Contemporary OB/GYN, 67(7), 9–11.
Healthcare workers were faced ethical challenges as the COVID-19 pandemic surged again across the United States. Most of the cases admitted to the hospitals are unvaccinated and inclined to severe disease, oftentimes needing critical care. Due to the pandemic surge, many nurses have left the nursing profession, citing burnout. There were increased frustrations from the staff for unvaccinated patients admitted with Covid pneumonia, placing this burden on the healthcare system. Clinicians' frustration about the perceived personal choice not to be vaccinated may differ from the care of quality received by vaccinated individuals.
As nurses, we are guided by several nursing-related policy statements and standards. The American Nurses Association (ANA) Social Policy Statement outlined that our obligation in the nursing profession is not only to promote, protect and optimize health; to prevent injury and illness, and alleviate suffering, but also to advocate for those they care for in general patient population (Milken & Ugeves, 2022).
Nurses are expected to use theories and evidence-based knowledge to provide nursing interventions with the goal of promoting quality outcomes. The statement in the policy mentioned the social contract between society and the nursing profession wherein nurses are expected to act responsibly due to public trust. The ANA Code of Ethics for Nurses calls to practice with respect and compassion for every person. All individuals with their values and preferences should be treated with respect, whether vaccinated or not. To promote an ethical work environment and ensure conducive to safe, quality health care, the Nursing code of ethics and related policy statements serve as helpful reminders of our professional obligations.
Reference
Milliken, A., & Uveges, M. K. (2022). Nurses' Ethical Obligations Toward Unvaccinated Individuals. AACN Advanced Critical Care, 33(2), 220–226.
Seclusion was widely used in mental health service, which had caused various negative effects on patients and nurses. Given that nursing workforce was limited and work burden among psychiatric nurses was heavy, seclusion was one of the coercive interventions in managing aggressive behavior (Zheng,2019), to improve therapeutic environment, and to be applied as a de-escalation technique.
Justice was defined as, individuals had the right to receive the equal care despite their background, such as gender, race, sexual orientation, education level, and so on. Universal Declaration of Human Rights (UDHR) emphasized that everyone was "equal in dignity and rights ". However, some psychiatric patients are not usually treated equally, because these patients lost their right to be treated as a valued person. Some secluded patients do not receive equal nursing care service as other patients, because the seclusion room can be in poor condition and their need may not be satisfied, most times these patients are even treated as "insanity" rather than "mankind".
Justice was one of the fundamental rights of mankind, patients with the mental disability still had their inherent rights to be treated equally, their integrity and dignity should also be respected. Moreover, the unequal care service had not only caused patients traumatic experience that against the principle of non-maleficence, but also had destroyed the relationship between patient and nurses, making patients be hostile to nurses. Hence, the ethical code of justice should always be applied by healthcare workers in the treatment of secluded patients in psychiatric units. When applying seclusion to manage the aggressive/self-harm behavior, nurses should treat patients equally and satisfy patients' needs. In relation to the psychological impacts of seclusion on patients, necessary explanation, constant observation, providing patient-oriented care with empathy, and respecting patients' dignity, are very important strategies of reducing psychological trauma caused by seclusion.
Seclusion continues to be used as a treatment option in the care of acutely disturbed psychiatric patients, despite considerable controversy about its use and appropriateness. Ethical limitations, supported to some extent by relevant legislation, support its use only when all other available interventions have been tried, in an emergency situation, with the least infringement on a person's privacy and dignity, with respect for a person's safety and well-being, and for strictly limited periods.
References
Muir-Cochrane, E. C., & Holmes, C. A. (2001). Legal and ethical aspects of seclusion: an Australian perspective. Journal of psychiatric and mental health nursing, 8(6), 501–506. https://doi.org/10.1046/j.1351-0126.2001.00413.x
Zheng, C., Li, S., Chen, Y., Ye, J., Xiao, A., Xia, Z., Liao, Y., Xu, Y., Zhang, Y., Yu, L., Wang, C., & Lin, J. (2019). Ethical consideration on use of seclusion in mental health services. International journal of nursing sciences, 7(1), 116–120. 
Most of us are familiar with African American superstars Serena Williams and Beyonce, and although these women share different stardome arenas they are both African American women that almost died due to complications of child birth (American Heart Association News, 2019). These stories may have gained the media's attention, but, in reality, the high prevalence of African American Maternal Mortality is outlandish (American Heart Association News, 2019). Black women are three times more likely to die from childbirth than their Caucasian counterparts (American Heart Association News, 2019). Some may argue that this health care issue is merely a socioeconomic disparity not qualifying as an ethical issue (American Heart Association News, 2019). I, however agree with Dr. Langer "It's basically a public health and human rights emergency because it's been estimated that a significant portion of these deaths could be prevented (American Heart Association News, 2019)."
Information from the CDC supports that most maternal deaths are preventable, and urges medical personnel to consider personal biases to decrease maternal health disparities (U.S. Department of Health & Human Services, 2022). Unfortunately, the fact that the CDC considers the implication of caregiver bias as a cause of the differences solidifies the need for ethical consideration (U.S. Department of Health & Human Services, 2022).
Health professionals have ethical obligations holding them to higher moral standards. As such breeches in these ethical codes are evidenced by (Rosenberg, 2021):
Non-maleficence
This tenant means do no harm. Harm includes negating the patient's needs or marginalizing symptoms based on personal biases.
Beneficence
Beneficence is defined as kindness and charity, although some care practitioners are not aware studies show that "Basically, black women are undervalued. They are not monitored as carefully as white women are. When they do present with symptoms, they are often dismissed.(American Heart Association News, 2019) "
Finally the ethical implications of justice, as professional, we must demonstrate impartial care, constantly reviewing our personal biases to ensure patients are treated fairly.
Please understand that I am evaluating my shortcomings as I pose this ethical issue. For instance, I cared for a gang banger who killed a minor and two other innocent bystanders. Caring for this patient was difficult, and I struggled with putting my personal feelings regarding his actions aside to meet his health care needs. This patient challenged my adherence to justice and benevolence. I struggled with empathizing with his pain and body image alterations. I say this to say that as humans, we are fallible, but as we notice life-altering disparities in health care and treatment of others we are obligated to advocate for change and consistently engage in self reflection.
References
American Heart Association News. (2019, February 20). Why are Black women at such high risk of dying from pregnancy complications? www.heart.org. https://www.heart.org/en/news/2019/02/20/why-are-black-women-at-such-high-risk-of-dying-from-pregnancy-complications
Rosenberg, S. (2021). Why ethics in nursing matters. Southern New Hampshire University – On Campus & Online Degrees | SNHU. https://www.snhu.edu/about-us/newsroom/health/ethics-in-nursing
U.S. Department of Health & Human Services. (2022, April 11). Working together to reduce Black maternal mortality. Centers for Disease Control and Prevention. https://www.cdc.gov/healthequity/features/maternal-mortality/index.html