DNP 810 Doctoral Strategies Essay and Attestation
DNP 810 Doctoral Strategies Essay and Attestation
DNP 810 Doctoral Strategies Essay and Attestation
Doctoral learning represents the final and the highest level of an academic journey where a person targets to attain the highest qualification. As such, it is uniquely autonomous and challenging to doctoral learners. The candidates have to undertake various activities and be proactive in every approach to boost their chances of completing the program. Just like any other doctoral course, Doctor of Nursing Practice entails a rigorous process that enables the candidates to be established and be voices of authority in their areas of specialty. The implication is that a DNP candidate needs to develop strategies to help in striking a healthy balance between academic life, professional life, and personal life (Taylor & Terhaar, 2018). As such, the purpose of this doctoral strategy essay and attestation is to explore different aspects of a doctoral journey, including potential concerns regarding matriculating through the DNP program and how the insights obtained from the orientation webinar were key in helping solve the concerns, the program's challenges and expectations and a plan that will help in becoming a successful DNP learner.
Concerns Regarding Matriculation and The Insights Obtained from Webinar
I couldn't wait to be a doctoral learner; therefore, I have been waiting for an opportunity to be one. The wish was eventually fulfilled when I got registered. However, I have been having concerns regarding matriculation through the DNP program. Among the concern is the complexity of balancing the study and family. By its nature, the program is a demanding one; therefore, it was worrying how I would create the right balance between my family and study life. The other concern was if I would be able to achieve the Association of American Medical Colleges (AAMC) competencies since I was not well conversant with them.
The other concern was strategies for obtaining the needed resources to be used during the DNP journey. These fears were alleviated when I attended the orientation webinar. From the webinar, it was clear what kind of activities I should be involved in to help me succeed, including the completion of class assignments, discussions, and writing reflection papers. In addition, it was also clear that I needed to choose a good mentor since mentors are essential during a doctoral journey (GCU, 2019).
The Expectations and Potential Challenges
One of the expectations is being proactive and taking self-initiative for self-directed learning for better achievement of the program requirements. Another expectation is that I be an autonomous learner to enable me to accomplish the research requirements. I am also expected to manage my time well so that I beat the set deadlines. Among the expected challenges are feeling of being overwhelmed, loneliness, and lack of appropriate time management (Zaccagnini & Pechacek, 2019). Various personal strengths are likely to help me, including flexibility and willingness to learn. These will be important in managing the DNP program's demands and meeting the program objectives.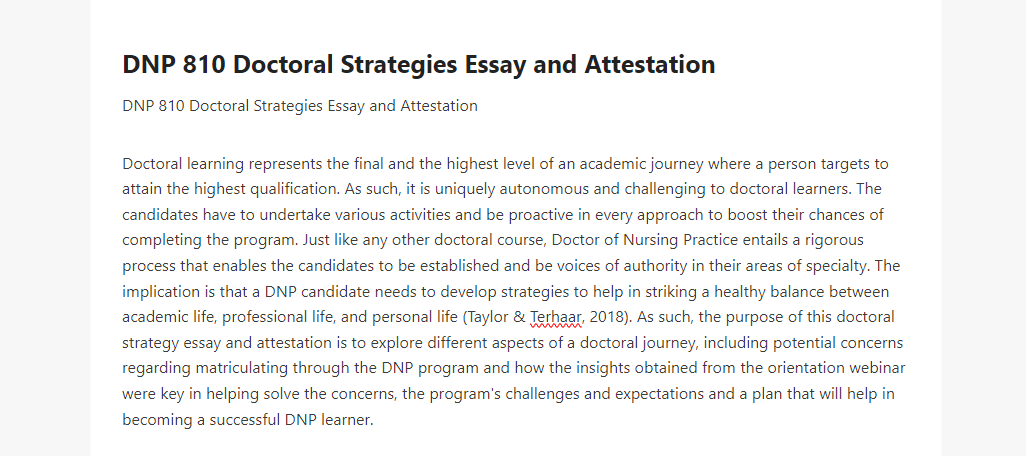 Plan for Being a Successful Learner
Addressing various aspects of DNP learning such as time management, autonomy, and self-directed learning is key to being a successful DNP learner. One of the plans is to participate in mentorship programs which will be key in guiding me through the project aspect of the journey. I will also formulate a reasonable timetable and come up with routines for better learning (Zaccagnini & Pechacek, 2019). Participating in peer discussion and using the available online resources will also be important. Resources will be used for better outcomes, including the DNP practice immersion workspace and the reading and study resources, which will be helpful in gaining the required knowledge.
Conclusion
Successful matriculation through the uniquely autonomous DNP program calls for appropriate and early preparation from the DNP candidate. Programs and plans have to be created to enhance success. Therefore, this write-up has identified possible challenges and barriers to successful completion and the potential solutions. The orientation webinar was timely, and online communities like the DNP practice immersion workspace will be vital during this journey.
References
Grand Canyon University (2019, Aug 1). Doctor of Nursing Orientation Webinar. Retrieved from https://www.youtube.com/watch?v=Iauwp7-5cO0&feature=youtu.be
Taylor, L. A., & Terhaar, M. F. (2018). Mitigating barriers to doctoral education for nurses. Nursing education perspectives, 39(5), 285-290. Doi: 10.1097/01.NEP.0000000000000386.
Zaccagnini, M., & Pechacek, J. M. (2019). The Doctor of nursing practice essentials: A new model for advanced practice nursing. Jones & Bartlett Learning.