DNP 805 EHR Database and Data Management
DNP 805 EHR Database and Data Management
DNP 805 EHR Database and Data Management
The adoption of information technology and reforms aimed at expanding access to healthcare services has led to the generation and accumulation of huge amounts of data by health care systems and organizations from multiple sources. The meaningful use incentive for utilization of the electronic health records (EHRs) has created vast and efficient data storage and databases that healthcare systems and providers can use to manage some of the common conditions affecting populations across the care continuum (Kruse et al., 2018). The purpose of this assignment is to discuss HER databases and management of data by focusing on a patient problem of surgical site infection. The paper explains incorporation of the information required to manage the issue, data required so that the database can manage the condition and enhance patient outcomes. The paper also describes entities that will be pulled from the EHRs and their relationships that the hypothetical database.
Patient Clinical Problem
The clinical issue of focus entails adult patients undergoing surgical procedure for colorectal cancer and susceptible to surgical site infections. According to Li et al. (2018), individuals undergoing colorectal cancer surgery have increased risk for morbidity (20%-40%) and mortality about 2% caused primarily by postoperative surgical site infections. Reports suggest that the rate of surgical infections has increased by over 25% in patients having a colon surgery (Grundmeier et al., 2019; PSNet, 2019). The implication is that infections, especially hospital acquired infections (HAIs) lead to increased length of stay in health facilities, increases susceptibility to other conditions and leads to a rise in medical cost. Imperatively, providers and organizations can leverage innovative approaches like development of EHRs databases to manage data and prevent and reduce the rate of surgical site infections.
Hypothetical EHR Database and Data Required
EHRs are digital forms of patient health information (PHI) and include personal contact data, patient medical history, allergies and treatment plans as well as test and diagnostic results. The benefits of EHRs include improving positive patient outcome and population health, organization and analysis of patient information, and enhancing clinical efficiency through better workflow, timelines, and quality of care. EHRs data can be deployed to create and internally authenticate a data-driven standard to detect at risk patients (Kruse et al., 2018). It also helps in clinical decision support to effectively identify patient at increased risk for surgical site infections. A hospital data management system incorporate all data associated with the facility in an organized manner and is a critical component of EHRs system to enhance interoperability and decision making among providers and patients.
Incorporating Information to Manage the Problem
The EHRs is widely used to gather patient health information including all their details based on the system requirement and are fed into the database. To retrieve information from such a system, one needs to write queries statement with all the criteria needed for its development. The system will offer a multi-tasking functionality by recording patient details while also taking the on duty staff details. The hypothetical database will be created to help colorectal cancer patients. The database will require information collected in the EHRs to input these details automatically. The criteria for data that will be pulled in into the database would include all patients with colon surgical procedure. The additional data would include start and end time of the procedure, room time, gender of the patient, past medical history, weight, family medical history, place of residence, any allergies and previous procedures. The database will also contain the time of medication administration, especially the administration of preoperative antibiotics (De Simone et al., 2018). The goal of these details is to ensure that preoperative antibiotics are administered 30 minutes before the set time for surgical incision.
Patient Problem Incorporating Information Needed
The patient issue being addressed is surgical site infection after a surgical procedure for adult patients with colon or rectal cancer. Surgical site infections (SSIs) after a colorectal procedure are a prevalent issue that impact patient safety and quality care outcomes with numerous reports asserting that close to 25% of such patients get these infections (Coccolini et al., 2018). These infections present a potentially preventable source of mortality, morbidity and resource use in healthcare (Kethman et al., 2019). SSIs are being used increasingly to measure a health care quality status and the main focus of Hospital Acquired Condition Reduction Program (HACRP). The HACRP is a pay-for-performance model that lowers payment to the bottom 25% worst-performing entities in management of surgical site infections and other types of HAIs. The program is focused on enhancing value-based care and paying providers for quality delivered and not quantity.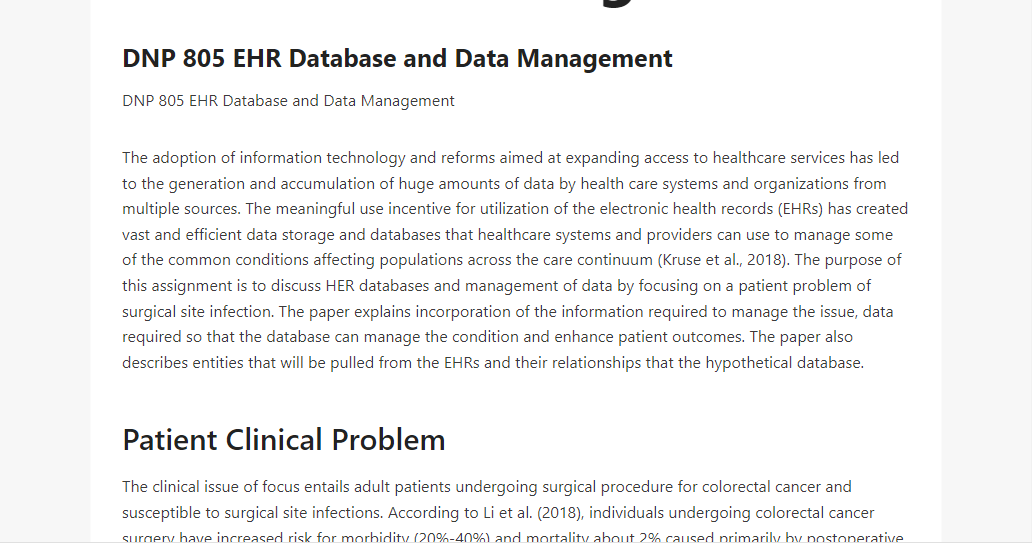 The pulled information into the database to manage the condition will entail gender, weight and patient past medical history. The database will also have family medical and health history to help in making effective clinical decisions. The data will help providers to determine the susceptibility or risk of the patient for surgical site infections. By pulling these patients into the database using specific information, the providers will ascertain the patients at higher risk for SSI, and give them antibiotics and treat them prophylactically to reduce their vulnerability to infections at the surgical site (Gerson et al., 2019). The implication is that this approach will lead to better health outcomes for the patients.
Data Entities Description
The EHRs implementation leads to collection of vast quantities of data; both structured and unstructured, that providers and facilities need to use to make decisions. Structure data comprises of patient demographics, medications, allergy and vitals, and family history. Structured information pulled in the EHR is easy to evaluate and complete identification of patients at risk for SSIs. Unstructured data comprises of information that does not have a definite model or structural framework. These include medical notes, faxed laboratory results, x-ray images and even patient phone calls (Assale et al., 2019). The information helps clinicians to figure out and obtain more accurate information about a patient's overall risk for SSIs.
The development of this database will entail pulling data from multiple sources; either as structured or unstructured. However, the database will have mainly structured data as it involves the use of medications before the surgical procedure. The database will have check boxed for past and family medical history, patient age, and patient weight that will be document in pounds. The system will have a drop down for gender with options like male, female and non-binary. Upon the completion of the surgical procedure, the information would be pulled into the database together with the documentation in the operating room done by the anesthesiologist. These would include procedure start and finish time, and time they administered preoperative antibiotic.
The operating surgeon will assess demographics and surgical information for accuracy. The anesthesiologist will assess and validate data on aspects like gender, weight, and body mass index (BMI for accuracy. The implication is that the database will store all associated data that is needed by the facility to make critical decisions to address the issue of SSIs. The system is designed for recording basic details for any facility to reduce SSIs. The current system in most facilities has details about patient ID, name, and address. However, this database will store all information in a structured manner so that the user can easily navigate it based on the system's requirements.
Conclusion
Through the use of structured data as mentioned in the assignment, facilities can identify with enhanced accuracy, the susceptibility of patients to SSIs. Further, based on this information, they can prophetically medicate them before they develop surgical site infections. SSIs are a significant cause of morbidity, mortality and are associated with not only increased length of stay but also increased rates of readmissions, high costs, and poor patient outcomes. The implication is that there is need to implement practices that will lower the incidences of associated complications and enhance patient safety, quality, and clinical outcomes.

References
Assale, M., Dui, L. G., Cina, A., Seveso, A., & Cabitza, F. (2019). The Revival of the Notes
Field: Leveraging the Unstructured Content in Electronic Health Records. Frontiers in
medicine, 6, 66. https://doi.org/10.3389/fmed.2019.00066
Coccolini, F., Improta, M., Cicuttin, E., Catena, F., Sartelli, M., Bova, R., … & Chiarugi, M.
(2021). Surgical site infection prevention and management in immunocompromised patients: a systematic review of the literature. World Journal of Emergency Surgery, 16(1), 1-13. https://doi.org/10.1186/s13017-021-00375-y
De Simone, B., Sartelli, M., Coccolini, F., Ball, C. G., Brambillasca, P., Chiarugi, M., … &
Catena, F. (2020). Intraoperative surgical site infection control and prevention: a position paper and future addendum to WSES intra-abdominal infections guidelines. World journal of emergency surgery, 15(1), 1-23. DOI: https://doi.org/10.1186/s13017-020-0288-4
Gerson, L., Barton, J., Monaco, C., & Baro, L. (2019). Using EMR to Implement and Track
Compliance of a Unique Colon Bundle That Reduced Surgical Site Infection in Colorectal Surgery: A Single Institution Review. https://digitalcommons.pcom.edu/research_day/research_day_PA_2019/researchPA2019/20/
Grundmeier, R. W., Xiao, R., Ross, R. K., Ramos, M. J., Karavite, D. J., Michel, J. J., … &
Coffin, S. E. (2018). Identifying surgical site infections in electronic health data using predictive models. Journal of the American Medical Informatics Association, 25(9), 1160-1166. https://doi.org/10.1093/jamia/ocy075
Kethman, W., Shelton, E., Kin, C., Morris, A., & Shelton, A. (2019). Effects of colorectal
surgery classification on reported postoperative surgical site infections. Journal of SurgicalResearch, 236, 340-344. https://doi.org/10.1016/j.jss.2018.12.005.
Kruse, C. S., Stein, A., Thomas, H., & Kaur, H. (2018). The use of Electronic Health Records to
Support Population Health: A Systematic Review of the Literature. Journal of medical
systems, 42(11), 214. https://doi.org/10.1007/s10916-018-1075-
Liu, L., Liu, L., Liang, L., Zhu, Z., Wan, X., Dai, H., & Huang, Q. (2018). Impact of
preoperative anemia on perioperative outcomes in patients undergoing elective colorectal surgery.Gastroenterology Research & Practice, 1-7. https://doi.org/10.1155/2018/2417028.
Patient Safety Network (PSNet) (2019 September 7). Surgical Site Infections.