DNP 801 Scholarly Writing Using Research
DNP 801 Scholarly Writing Using Research
DNP 801 Scholarly Writing Using Research
Accurate search and location of articles of research is a skill required in academic study. Weak writing and research capacity becloud and threatens an individual's strategic intent to undertake assignments in the course of study (Gernsbacher, 2017). In my scholarly writing experience, identifying the academic evidence to support my ideas was the most challenging task. On most occasions, I would select a better article supporting my theme, but the sources were always old. Using the experience learned in class, I understood that my study needs to use the most recent scholarly sources to enable my writing to be up to date.
            I used the Google scholar site to solve my problem. The site has numerous articles authored by different scholars all over the world. The site covers all topics of interest, and one can select the article that best suits the areas of study. Besides, the researcher can select a range of articles (von Isenburg et al., 2017). For instance, if I want all articles published on a particular topic between 2017 to 2021, I would just select the range, and the site would automatically select the articles. The increased ability to find recent articles allows research to write a scholarly paper meeting the standards of academic writing.
In my journey towards attaining proficient skills in scholarly writing, I would conduct in-depth research on my topic of study before commencing a write-up. I will also use nursing research databases such as CINAHL, Cochcane Library, Medline and PsyINFO to further refine my searches and get more relevant and current evidence. These databases will assist in accessing many articles that address the topic and understand the opinions of different scholars before writing. The study will allow me to review empirical evidence cited by different scholars in developing new research knowledge (von Isenburg et al., 2017). Besides, I would use the most recent articles to remain significant in my field of research.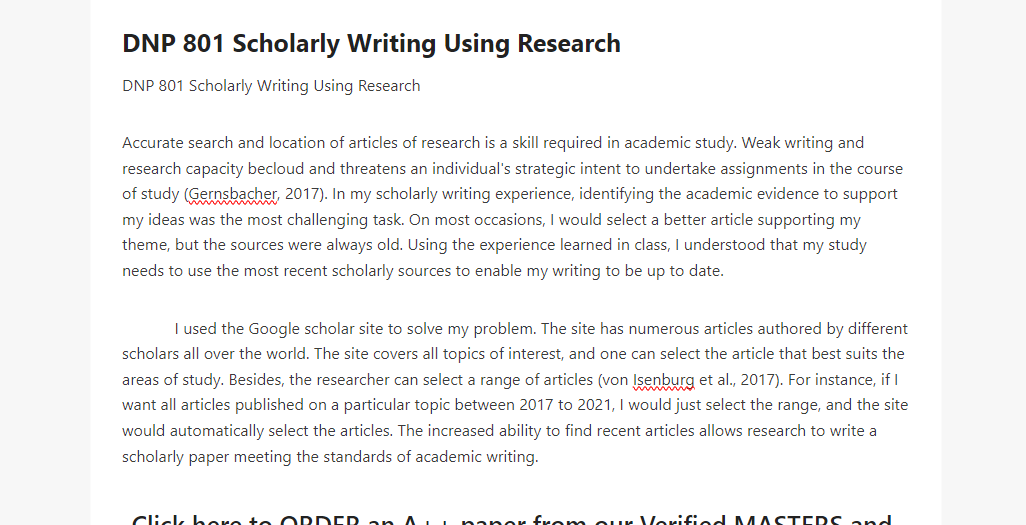 References
Gernsbacher, M. A. (2017). Editorial perspective: The use of person‐first language in scholarly writing may accentuate stigma. Journal of Child Psychology and Psychiatry, 58(7), 859-861.
von Isenburg, M., Lee, L. S., & Oermann, M. H. (2017). Writing together to get AHEAD: an interprofessional boot camp to support scholarly writing in the health professions. Journal of the Medical Library Association: JMLA, 105(2), 167.