Discussion: Politics and the Patient Protection and Affordable Care Act NURS 6050
Discussion: Politics and the Patient Protection and Affordable Care Act NURS 6050
The Patient Protection and Affordable Care Act and politics
Divided politics and divisiveness have made it difficult for American leaders to reconsider long-delayed healthcare reforms. Some argue that the current healthcare system under the Affordable Care Act is cost-effective. For a program to be cost-effective, its benefits must outweigh the costs associated with its implementation, according to a cost-benefit analysis (Milstead & Short, 2019). The Act provides healthcare services to the vast majority of residents; therefore, repealing it could result in legislators losing electoral support.
Some political leaders believe that if the Affordable Care Act is repealed, a large number of people will lose their health-care coverage (Hagan et al., 2017). There is also concern that repealing the Act will result in a significant loss of employment due to fewer people having access to insurance coverage. For example, if the Act is repealed, a large number of people who obtained insurance through the Affordable Care Act will lose it automatically. Many Americans will become uninsured as a result of the loss of Medicaid coverage for millions of low-income earners. This will have an impact on their ability to access and afford healthcare treatments.
According to Feldstein, legislators are unlikely to support repealing the Affordable Care Act. This is because, according to a cost-benefit analysis, legislators will only support a legislative initiative that benefits them more (Feldstein, 2006). According to this logic, repealing the Affordable Care Act is unlikely because it would be detrimental to the American people. This is demonstrated by the fact that, despite President Trump's efforts, he has been unable to repeal the Act. Even when Republicans controlled Congress, they were unable to muster the necessary support to overturn the law. In this case, the advantages of the coat (political support) outweigh the disadvantages (losing political support). As a result, they are unlikely to support the repeal.
Individuals, regardless of political orientation, frequently get anxious when they contemplate the government's perceived competing interests and their impact on issues of personal interest. Healthcare is no exception. Certain individuals believe that municipal, state, and federal policies and legislation can be aided or harmed by interests other than the greater good of society.
Discussion: Politics and the Patient Protection and Affordable Care Act NURS 6050
Consider that the primary responsibility of a legislator is to be re-elected. Costs can be expressed in both votes and dollars. Thus, it is critical to examine the legislator's position while deciding whether to support or oppose a certain effort in the political scene.
Politics and the Patient Protection and Affordable Care Act SAMPLE
Politicians' main interest is to be re-elected to continue maintaining their political positions. The interest of being reelected every campaign has greatly impacted the policymaking process. Politicians would rather support what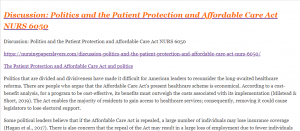 looks good in the eyes of people to ensure they do not lose quorum (Milstead & Short, 2019). Since President Trump became the president of the United States of America, he has been against the Affordable Care Act. As a result, he has tried to repeal the policy but the efforts have failed. President Trump's administration has not given up since many trials to repeal the Affordable Care Act are expected. Most probably, the repeal trials have failed so that politicians can safeguard their likelihood of being re-elected. This paper explains how the cost-benefit analysis in terms of legislators being re-elected affected efforts to repeal/replace the ACA. It also explains how analysis of the voter views may impact politicians' recommendations about the Medicare Prescription Drug Savings and Choice Act of 2019….
Testimony/Advocacy Statement
Good afternoon.  My name is Erin Littlepage, and today I will be discussing the importance of passing the H.R.4769 bill, also known as the Medicare Prescription Drug Savings and Choice Act of 2019.  Compared to other highly developed countries with decent healthcare, the United States has substantially higher prices for the cost of drugs.  There are many bills that have been introduced to the House of Representatives in order to combat these high prices that we as Americans face every day, and the Medicare Prescription Drug Savings and Choice Act of 2019 bill is especially important.
Under the current administration, as of December 18, 2019, Donald Trump has announced plans to allow states to purchase prescription medications from Canada to help lower the costs of Americans purchasing their medications.   The fact that our medications are so expensive, we must go to another country to purchase prescription drugs is a disturbing fact.  However, if the plan goes into action, the Medicare expenses will be lowered from state to state which would be a huge push in the right direction of lowering our prescription drug costs (Williams, 2019).
There are opponents to the bill, unfortunately.  Large drug companies must increase the prices of medications in order to make a profit for themselves.  This does not benefit the American consumer, however.  So many Americans fail to take their medications as prescribed by their provider because they do not have the money to pay for them.  I have worked on Medical Surgical units for my entire nursing career, and the amount of admissions and readmissions based on the mere fact that the patient cannot afford their drugs, and come in with acute symptoms that could be regulated with medication administration, is astounding.  While it appears as if the pharmaceutical companies will just continue increasing their drug prices, I think the only way to address these opponents is to have this bill and other bills related to drug pricing passed to Congress and have them take strong action to manage the issue.
An amendment I would propose in regard to this bill, is laid out in the Medicare Drug Price Negotiation act, which would allow the secretary of Health and Human Services to negotiate drug prices for drugs under Medicare.  This in turn, would lower drug prices.  Currently, the secretary of HHS is not permitted to negotiate on pricing so they must accept the numbers given by the pharmaceutical company.
In conclusion, the high prices of medications will continue to be an issue nationwide as long as Congress sits back and allows pharmaceutical companies to take advantage of innocent Americans.  The Medicare Prescription Drug Savings and Choice Act of 2019 will allow the Center for Medicare and Medicaid Services to negotiate with pharmaceutical companies to keep pricing reasonable for drugs and offer alternatives medications that are of equal value, but of lower price.  These companies have time and time again shown their greed, and that a profit is more important than the life of American citizens.  This issue is long overdue to be solved and will continue until Congress takes a stand, starting with the passing of this bill and others related to the issue.