Discussion: Examining Nursing Specialties NURS 6003
Discussion: Examining Nursing Specialties
https://nursingpaperslayers.com/discussion-examining-nursing-specialties-nurs-6003/
You have probably seen one or more of the many inspirational posters about decisions. A visual such as a forked road or a street sign is typically pictured, along with a quote designed to inspire.
Decisions are often not so easily inspired. Perhaps you discovered this when choosing a specialty within the MSN program. This decision is a critical part of your plan for success, and you no doubt want to get it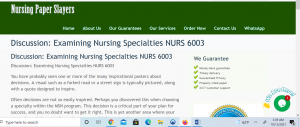 right. This is yet another area where your network can help, as well as other sources of information that can help you make an informed choice.
Examining Nursing specialties. 
Passion for caring influences my selection for MSN (Master of Science in Nursing) specialty as Psychiatric Mental Health Nurse Practitioner (PMHNP) program, determining this choice has been a reflective process for me, consisting of research, deep thought, and deliberations, I had two options of either Psychiatric Mental Health Nurse Practitioner (PMHNP) or Adult/Gerontology Primary Care Nurse Practitioner (AGNP). My nursing experience in long term care as an Alzheimer's / Dementia Unit Manager, of dealing with dementia patients also influence my focus in acquiring more information to deliver mental health services, a psychiatric nurse and mental health practitioner can access, examine, diagnose, and treat patients with mental illness (Walden University 2021).  
The difficulty I encountered before making this choice is not wanting to let go of my geriatric patients as the elderly represent an important vulnerable group that are exposed to chronic health conditions associated with progressed age and they also rely totally on healthcare services for survival (Szabo et al., 2020), having in mind that my geriatric patients are also included in the group of patients that are diagnosed with mental health issues, therefore my functioning as PMHNP will still allow me to be able to tender for this group of patients. 
As a member of the National Council of Certified Dementia Practitioner (NCCDP) I am   a Certified Dementia Practitioner (CDP) which is one of the criteria to be met to practice in my field, I also wish to join the American Psychiatric Nurses Association (APNA) which represents psychiatric nurses and psychiatric nurse practitioners, the APNA is the largest professional membership organization committed to the care and treatment of persons with psychiatric disorders., on their website there is a link to become a member, it will be easy for me to be a member even as a student, the website listed annual membership fee to be paid at joining and annually subsequently. I strongly believe that I will join this organization as a student and when I am done with this program, this will help to build my professional network strength. Being a member of a nursing organization also helps in achieving my nursing education goals. "As with anything else, if you put effort into it, you will receive more out of it." Quinn-Szcesuil, (2016). 
References 
Quinn-Szcesuil, J. (2016). Why you should join a nursing association. Retrieved from https://dailynurse.com/join-nursing-association/ 
Szabo, S., Nove, A., Matthews, Z., Bajracharya, A., Dhillon, I., & Singh, D. et al. (2020). Health workforce demography: a framework to improve understanding of the health workforce and support achievement of the Sustainable Development Goals. Human Resources for Health, 18(1). https://doi.org/10.1186/s12960-020-0445-6  
Walden University. (2021). Choosing the MSN specialization that's right for you. Walden University. https://www.waldenu.edu/online-masters-programs/master-of-science-innursing/resource/choosing-the-msn-specialization-thats-right-for-you 
Discussion: Examining Nursing Specialties NURS 6003 SAMPLE 1