Differential Diagnosis for Skin Conditions Discussion: NURS 6512 Week 4
Differential Diagnosis for Skin Conditions Discussion: NURS 6512 Week 4
Patient Initials: AD     Age: 34                       Gender: Male
SUBJECTIVE DATA:
Chief Complaint (CC): "My left thumbnail has been having a vertical split at the center for the last three months"
History of Present Illness (HPI): AD is a 34-year-old white male who presents with a vertical split on his left thumbnail. He states that it started four months ago. He reports he tends to habitually rub the thumb's nail fold using the tip of the second digit. He also states that he has frequented a manicurist in the last four months who have been pushing back his cuticle during the manicure. His nail has a crack that extends laterally and looks like the branches of a fir tree. He denies erythema or warmth and no other fingernails are affected. The finger is painless.
Medications: None
Allergies:  No known drug or food allergies.
Past Medical History (PMH):
Tonsilitis
Appendicitis
Past Surgical History (PSH):
Tonsillectomy
Appendectomy
Sexual/Reproductive History:
The patient is a heterosexual and he reports no reproductive issues or risky sexual behavior. He is married with one kid. He has no history of STIs.
Personal/Social History:
The patient is a real estate agent who lives with his wife and kid. Patient denies smoking, ETOH, or consuming any illicit substance. He states that he exercises three times a week and maintains a healthy diet.
Health Maintenance:
AD presents annually for a routine physical exam. He reports bloodwork 2 years ago at an annual exam.
Immunization History:
Immunizations up to date and had a flu vaccine two months ago. He had a Tdap in 2018.
Significant Family History:
Father alive 67 HTN, mother alive 60 healthy. He is the only sibling and he reports that his daughter is in good health with no significant health history.
Review of Systems:
General: The patient denies fever or chills, fatigue, or decreased appetite. He denies difficulty sleeping, night sweats, malaise, chills, or unexplained weight changes.
HEENT: HEAD: Denies any head injury, or change in LOC. Eyes: Denies any changes in vision, diplopia, or blurred vision. Ear: Denies pain in the ears. Denies loss of hearing or drainage. Nose: Denies nasal drainage, and congestion. THROAT: Denies throat or neck pain, hoarseness, or difficulty swallowing.
            Respiratory: The patient denies shortness of breath, cough, or hemoptysis.
Cardiovascular/Peripheral Vascular: The patient denies arrhythmia, chest pain, palpitations, heart murmur, or SOB.
Gastrointestinal: The patient denies abdominal pain or discomfort. He denies flatulence, nausea, vomiting, or diarrhea.
Genitourinary: Pt denies hematuria, dysuria, or change in urinary frequency. He denies difficulty starting/stopping a stream of urine or incontinence.
            Musculoskeletal: Pt denies edema, weakness, or joint pain of extremities B/L.
Neurological: Denies headache and dizziness, LOC or history of tremors or seizures.
Psychiatric: Pt denies a history of anxiety or depression. He reports no sleep disturbance, delusions, or mental health history. He denied a suicidal/homicidal history.
Skin/hair/nails: The patient denies rash, petechiae, pruritus, or abnormal bruising/bleeding. He complains of a vertical split on his left thumbnail.
Properly identifying the cause and type of a patient's skin condition involves a process of elimination known as differential diagnosis. Using this process, a health professional can take a given set of physical abnormalities, vital signs, health assessment findings, and patient descriptions of symptoms, and incrementally narrow them down until one diagnosis is determined as the most likely cause.
In this Discussion, you will examine several visual representations of various skin conditions, describe your observations, and use the techniques of differential diagnosis to determine the most likely condition.
Note: Your Discussion post should be in the SOAP (Subjective, Objective, Assessment, and Plan) note format, rather than the traditional narrative style Discussion posting format. Refer to Chapter 2 of the Sullivan text and the Comprehensive SOAP Template in this week's Learning Resources for guidance. Remember that not all comprehensive SOAP data are included in every patient case.
To prepare FOR Differential Diagnosis for Skin Conditions:
Review the Skin Conditions document provided in this week's Learning Resources, and select two conditions to closely examine for this Discussion.
Consider the abnormal physical characteristics you observe in the graphics you selected. How would you describe the characteristics using clinical terminologies?
Explore different conditions that could be the cause of the skin abnormalities in the graphics you selected.
Consider which of the conditions is most likely to be the correct diagnosis, and why.
By Day 3 OF Differential Diagnosis for Skin Conditions
Post a description of the two graphics you selected (identify each graphic by number). Use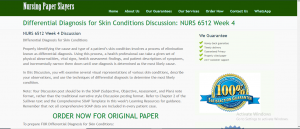 clinical terminologies to explain the physical characteristics featured in each graphic. Formulate a differential diagnosis of three to five possible conditions for each. Determine which is most likely to be the correct diagnosis, and explain your reasoning.
Read a selection of your colleagues' responses.
By Day 6 OF Differential Diagnosis for Skin Conditions
Respond to at least two of your colleagues on two different days. Make sure that you respond to colleagues who selected at least one graphic that is different from the ones you selected. For each, address all of the following:
Critique your colleague's clinical description of the physical characteristics of each.
Suggest an additional possible condition for each graphic, and explain your reasoning.
Provide an alternative correct diagnosis, and explain your reasoning.
Validate an idea with your own experience and additional research.
Subjective
The image depicts the skin of an unidentified patient who complains of itchy skin in large areas of the body. According to the patients, the joints are the most affected. The patient claims that the dandruff-like scales appear in cycles that last a week before subsiding and reappearing. The patient recalls similar conditions among family members in the past.
Objective
There are visible red spots on the skin. The skin is becoming redder. Silvery scales cover the red patches of skin. There is some bleeding and cracking of the skin. The nails have pitted and ridged surfaces. The joints are inflamed.
Assessment (Differential Diagnosis) Seborrheic dermatitis, lichen planus, ringworm of the body, pityriasis rosea, and psoriasis are all possibilities. Although seborrheic dermatitis is a possibility, the scaly skin is not greasy as it is with this condition and thus is less likely to be present (Dains, Baumann, & Scheibel, 2016). Lichen planus is another possibility, but because lichen has flat-topped bumps, it is less likely here. Ringworm is also another pos…
Differential Diagnosis for Skin Conditions Discussion: NURS 6512 Week 4
Submission and Grading Information
Comprehensive SOAP Template
This template is for a full history and physical. For this course include only areas that are related to the case.
Patient Initials: _______ Age: _______ Gender: _______
Note: The mnemonic below is included for your reference and should be removed before the submission of your final note.
L =location
O= onset
C= character
A= associated signs and symptoms
T= timing
E= exacerbating/relieving factors
S= severity
SUBJECTIVE DATA:Include what the patient tells you, but organize the information.
Chief Complaint (CC):In just a few words, explain why the patient came to the clinic.
History of Present Illness (HPI):This is the symptom analysis section of your note. Thorough documentation in this section is essential for patient care, coding, and billing analysis. Paint a picture of what is wrong with the patient. You need to start EVERY HPI with age, race, and gender (e.g., 34-year-old AA male). You must include the seven attributes of each principal symptom in paragraph form not a list.If the CC was "headache", the LOCATES for the HPI might look like the following example:
Location: head
Onset: 3 days ago
Character: pounding, pressure around the eyes and temples
Associated signs and symptoms: nausea, vomiting, photophobia, phonophobia
Timing: after being on the computer all day at work
Exacerbating/ relieving factors: light bothers eyes, Aleve makes it tolerable but not completely better
Severity: 7/10 pain scale
Medications:Include over-the-counter, vitamin, and herbal supplements. List each one by name with dosage and frequency.
Allergies:Include specific reactions to medications, foods, insects, and environmental factors. Identify if it is an allergy or intolerance.
Past Medical History (PMH):Include illnesses (also childhood illnesses), hospitalizations.
Past Surgical History (PSH):Include dates, indications, and types of operations.
Sexual/Reproductive History: If applicable,include obstetric history, menstrual history, methods of contraception, sexual function, and risky sexual behaviors.
Personal/Social History:Include tobacco use, alcohol use, drug use, patient's interests, ADL's and IADL's if applicable, and exercise and eating habits.
Immunization History:Includelast Tdap, Flu, pneumonia, etc.
Significant Family History: Include history of parents, grandparents, siblings, and children.
Lifestyle:Include cultural factors, economic factors, safety, and support systems and sexual preference.
Review of Systems:From head-to-toe, include each system that covers the Chief Complaint, History of Present Illness, and History (this includes the systems that address any previous diagnoses).Remember that the information you include in this section is based on what the patient tells you so ensure that you include all essentials in your case (refer to Chapter 2 of the Sullivan text).
General:Include any recent weight changes, weakness, fatigue, or fever, but do not restate HPI data here.
HEENT:
Neck:
Breasts:
Respiratory:
Cardiovascular/Peripheral Vascular:
Gastrointestinal:
Genitourinary:
Musculoskeletal:
Psychiatric:
Neurological:
Skin:
Hematologic:
Endocrine:
Allergic/Immunologic:
OBJECTIVE DATA:From head-to-toe, includewhat you see, hear, and feel when doing your physical exam. You only need to examine the systems that are pertinent to the CC, HPI, and History unless you are doing a total H&P- only in this course. Do not use "WNL" or "normal." You must describe what you see.
Physical Exam:
Vital signs: Include vital signs, ht, wt, and BMI.
General:Include general state of health, posture, motor activity, and gait. This may also include dress, grooming, hygiene, odors of body or breath, facial expression, manner, level of consciousness, and affect and reactions to people and things.
HEENT:
Neck:
Chest
Lungs:
Heart
Peripheral Vascular: Abdomen:
Genital/Rectal:
Musculoskeletal:
Neurological:
Skin:
Include any labs, x-rays, or other diagnostics that are needed to develop the differential diagnoses.
ASSESSMENT:List your priority diagnosis (es). For each priority diagnosis, list at least three differential diagnoses, each of which must be supported with evidence and guidelines. For holistic care, you need to include previous diagnoses and indicate whether these are controlled or not controlled. These should also be included in your treatment plan.
PLAN:This section is not required for the assignments in this course (NURS 6512) but will be required for future courses.
REFLECTION: This section is not required for the assignments in this course (NURS 6512) but will be required for future courses.Reflect on your clinical experience, and consider the following questions: What did you learn from this experience? What would you do differently? Do you agree with your preceptor based on the evidence?
Week 4 quiz
Question 1Which of the following is a noncandidal fungal infection?
Question 2Which of the following is an "ABCD" characteristic of malignant melanoma?
Question 3A 5-year-old child presents with discrete vesicles on an erythematous base (dew drops on a rose petal appearance) that began near her scalp and are spreading to the trunk. The child has a low-grade fever and feels tired. What is the nurse's next action?
Question 4Cherry angiomas are a common finding in:
Question 5 The skin repairs surface wounds by:
Question 6As part of your health promotion education for a new patient, you explain that the risk factors for skin cancer include:
Question 7Mrs. Britton is a 34-year-old patient who presents to the office with complaints of skin rashes. You have noted a 4 ´ 3-cm, rough, elevated area of psoriasis. This is an example of a:
Question 8Small, minute bruises are called:
Question 9A 17-year-old student complains of a "rash for 3 days." You note pale, erythematous oval plaques over the trunk. They have fine scales and are arranged in a fernlike pattern with parallel alignment. What is the nurse's next action?
Question 10A 29-year-old white woman appears jaundiced. An etiology of liver disease has been excluded. What history questions should the nurse ask?
Question 11A simian line seen in the palm of a small child may imply:
Question 12The nurse inspects an annular lesion. What type of additional lighting source should be used for further assessment?
Question 13The characteristic that best differentiates psoriasis from other skin abnormalities is the:
Question 14Age spots are also called:
Question 15 The secretory activity of the sebaceous glands is stimulated by:
Question 16A Dennie-Morgan fold is probably caused by:
Question 17The most common cutaneous neoplasm is:
Question 18Sally comes to your family practice clinic 24 hours after she lacerated her foot on an oyster shell. The wound is 4cm in length, shallow, and is on the sole of her foot. There is a small amount of bleeding on the dressing. She asks you to suture it closed because it keeps leaking blood. What is the best response?
Question 19The rationale for suturing wounds includes:
Question 20Wound infections are often cause by all of the following organisms except: