Describe the steps of the evidence-based research process and the importance of using them NUR 513
Describe the steps of the evidence-based research process and the importance of using them NUR 513
Re: Topic 7 DQ 1
Evidence-based practice (EBP) unites research evidence with clinical expertise and encourages individualized care by including patient preferences (Stevens, 2013). A major paradigm shift in the way nurses began to think about research results, framed the context for improvement, and employed change to transform healthcare was apparent with EBP on the scene. Patient care outcomes substantially improve with the use of EBP and tested interventions.
Two nursing educators and researchers, Melnyk and Fineout-Overholt, suggest seven steps in the EBP process, all proving vital for effective implementation and integration into the clinical setting (Melnyk &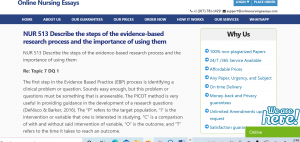 Fineout-Overholt, 2011, as cited in DeNisco & Barker, 2016, p.465). In the past, it has taken years to transfer new knowledge into practice, so speed is the primary goal for EBP models (DeNisco & Barker, 2016). Many models exist and common aspects include: identifying a problem and having a spirit of inquiry, asking practice questions, reviewing the latest evidence, critically appraising the evidence, integrating personal expertise and patient preferences in and grading, and finally organizing pieces in a meaningful way.
Describe the steps of the evidence-based research process and the importance of using them NUR 513
Read Also: NUR 513 Topic 7 DQ 1 Describe the steps of the evidence-based research process and the importance of using them
My search for information would begin with PubMed because it is a free database that can be accessed from any mobile device (DeNisco & Barker, 2016). It is critical to start with a question that can be researched and answered. The PICOT question formulation method is widely used for clinical problems. My next step will be to look through databases like CINAHL, The Cochrane Library, and MEDLINE. The CINAHL database contains over 3,000 nursing and allied health journals, but only subscribers have access.
According to Stevens (2013), nurses in leadership positions have a once-in-a-lifetime opportunity to take the lead and transform healthcare from a systems standpoint, focusing on EBP for patient safety, patient engagement, and clinical effectiveness. EBP's "next big ideas" are centered on improving systems and transforming healthcare. One component is to look beyond the individual and focus on groups, health systems, and the community. The rapid dissemination and implementation of patient-safety strategies is the second component. While the evidence gathered and applied has advantages, the patient is the true beneficiary.
Describe the steps of the evidence-based research process and the importance of using them NUR 513 Resources
RESPOND HERE (150 WORDS, 2 REFERENCES)
Hello
I agree with you that it is the responsibility of nurse leaders and nurse managers to drive change in nursing practice by promoting the successful implementation of EBP project findings into nurse practice. However, in order for the EBP project to be meaningful to nurse practice, all of the steps required to conduct an EBP must be followed exactly. The research problem should be a clinical or nursing concern that can be solved by carrying out a viable research project that will generate new knowledge and nurse practice or build on the already existing bulk of knowledge (Li et al., 2019). The research objective should be SMART, that is, specific to a specific area of nursing or population, measurable, achievable, relevant to the area of practice, and time bound. I also agree with you that there are numerous websites that can be used when conducting research on a specific topic or nursing area of study. CINAHL, EMBASE, ERIC, MEDLINE via PUBMED or via Ovid, Cochrane Library, HAPI, and Nursing Reference Centre Plus are examples of nursing data bases. These databases contain a sufficient amount of nursing research work on which to base an EBP research question in order to ensure its relevance and usefulness in nursing practice (Hopia & Heikkilä, 2019).
Describe the steps of the evidence-based research process and the importance of using them NUR 513 References
Hopia, H., & Heikkilä, J. (2019). Nursing research priorities based on CINAHL database: A scoping review. Nursing Open, 7(2). https://doi.org/10.1002/nop2.428
Li, S., Cao, M., & Zhu, X. (2019). Evidence-based practice. Medicine, 98(39), e17209. https://doi.org/10.1097/md.0000000000017209