BEHS 380 Legal and Moral Issues 
BEHS 380 Legal and Moral Issues 
BEHS 380 Legal and Moral Issues 
Physician-Assisted Suicide
Physician-assisted suicide presents complex and challenging ethical and moral dilemmas to healthcare practitioners. It is surrounded by controversial disputes and views as some individuals being in favor of this practice whereas others strongly oppose it. Physician-assisted suicide is a form of assisted dying whereby a physician intentionally avails the required information and means upon a patient's voluntary and competent request to facilitate the termination of their own life (Fontalis et al., 2018). The global acceptance of physician-assisted suicide is varied with some jurisdictions having legalized it.
Individuals seek physician-assisted suicide services for varying reasons. These include the fear of loss of autonomy, diminished capacity to engage in enjoyable life activities, loss of dignity, loss of control of bodily functions, prolonged suffering especially from uncontrollable pain, and imposition of unnecessary burdens on loved ones and caregivers (Dugdale et al., 2019). For jurisdictions whereby this practice is legal, careful patient-specific consideration should be made, to ascertain the competence of the patient to make this choice. The patient should be adequately informed and other end-of-life alternatives provided.
Proponents of physician-assisted suicide posit various arguments in support of this practice. These include respect for patient autonomy concerning the control of own death circumstances, relief of refractory suffering especially in the event of imminent death, and the safety of the medical practice (Dugdale et al., 2019). The safety of physician-assisted suicide is enhanced by safeguards such as ensuring that the patient is well informed, free from coercion, can self-administer the desired intervention, and in the presence of witnesses who can attest to the autonomy of the patient (Dugdale et al., 2019). The considerations against physician-assisted suicide include religious and personal beliefs, the slippery slope with increased risk of abuse, and unintended incremental assisted and non-assisted suicide contagion (Gutierrez-Castillo et al., 2020). There is also a risk of inappropriate death by individuals suffering from depressive illness who are prone to suicidal ideations. Controversy surrounds the balancing of the constitutional right to life, the breaching of ethical principles, and the validity of physician-assisted suicide (Sulmasy et al., 2018). The social perception of premature and intentional termination of life is also an important consideration.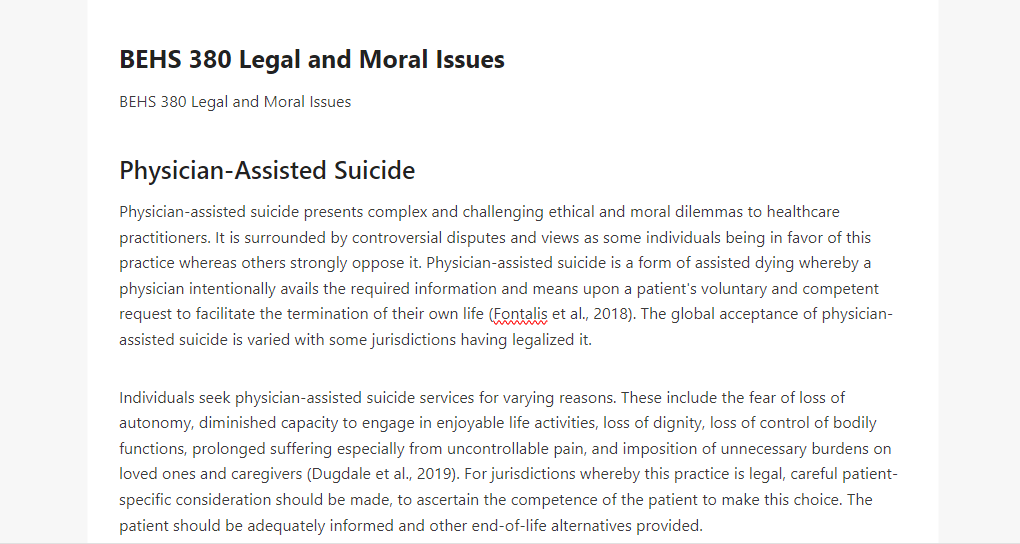 References
Dugdale, L. S., Lerner, B. H., & Callahan, D. (2019). Pros and Cons of Physician Aid in Dying. The Yale Journal of Biology and Medicine, 92(4), 747–750. https://pubmed.ncbi.nlm.nih.gov/31866790/
Fontalis, A., Prousali, E., & Kulkarni, K. (2018). Euthanasia and assisted dying: What is the current position and what are the key arguments informing the debate? Journal of the Royal Society of Medicine, 111(11), 407–413. https://doi.org/10.1177/0141076818803452
Gutierrez-Castillo, A., Gutierrez-Castillo, J., Guadarrama-Conzuelo, F., Jimenez-Ruiz, A., & Luis Ruiz-Sandoval, J. (2020). Euthanasia and physician-assisted suicide: A systematic review of medical students' attitudes in the last 10 years. Journal of Medical Ethics and History of Medicine. https://doi.org/10.18502/jmehm.v13i22.4864
Sulmasy, D. P., Finlay, I., Fitzgerald, F., Foley, K., Payne, R., & Siegler, M. (2018). Physician-assisted suicide: Why neutrality by organized medicine is neither neutral nor appropriate. Journal of General Internal Medicine, 33(8), 1394–1399. https://doi.org/10.1007/s11606-018-4424-8