Assignment: Nursing Theory / Case Study
Assignment Nursing Theory Case Study
Click here to ORDER an A++ paper from our Verified MASTERS and DOCTORATE WRITERS: Assignment: Nursing Theory / Case Study
The person-centered care framework by McCormack and McCane addresses all of the nursing metaparadigm concepts, which are the environment, nursing, health, and the person. The framework centers upon respecting clients and acknowledging them as partners in the course of giving them care. The PCN framework recommends placing the patient as the most important aspect of nursing care. Nurses should consider and respect the opinions of patients regarding their care (Wolstenholme, Ross, Cobb, & Bowen, 2017). The theory posits that the role of nursing is to make patients fully functional. Hence, nurses should advocate for patients regardless of their ability, health status, or age. To enhance the nursing environment, the framework recommends creating therapeutic situations, including effective teamwork and positive staff relationships.
Family nursing practitioners can improve patient outcomes by applying the PCN nursing framework. First, they can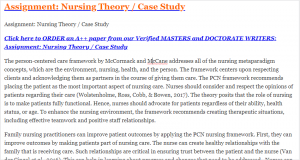 improve outcomes by making patients part of nursing care. The nurse can create healthy relationships with the family that is receiving care. Such relationships are critical in ensuring trust between the patient and the nurse (Van der Cingel et al., 2016). This can help in learning about progress and changes that need to be addressed.  Nurses can also use the theory in their practice to advocate for the patients.
By applying the PCN framework, nurses can be more compassionate with their clients. Regarding the environment, nurses can work closely with other professionals to enhance the experience of their clients (McCormack et al., 2015). They can also ensure that the home or hospital environment wherein care is provided is auspicious to the patient. Similarly, family nurse practitioners ought to ensure that the nursing care provided to clients are of the highest quality. The goal should be to help families meet their health needs. Working closely with clients can enable nurses to achieve better patient outcomes. Lastly, nurses can also use evidence-based values to enhance patient care.
References
McCormack, B., Borg, M., Cardiff, S., Dewing, J., Jacobs, G., & Janes, N. et al. (2015). Person-centredness – the 'state' of the art. International Practice Development Journal, 5(Suppl), 1-15. doi: 10.19043/ipdj.5sp.003
Van der Cingel, M., Brandsma, L., van Dam, M., van Dorst, M., Verkaart, C., & van der Velde, C. (2016). Concepts of person-centred care: a framework analysis of five studies in daily care practices. International Practice Development Journal, 6(2), 1-17. doi: 10.19043/ipdj.62.006
Wolstenholme, D., Ross, H., Cobb, M., & Bowen, S. (2017). Participatory design facilitates Person Centred Nursing in service improvement with older people: a secondary directed content analysis. Journal of clinical nursing, 26(9-10), 1217–1225. doi:10.1111/jocn.13385