Assignment: Legislation Grid and Advocacy Statement NURS 6050
Assignment Legislation Grid and Advocacy Statement NURS 6050
Click here to ORDER NOW FOR AN ORIGINAL PAPER ASSIGNMENT: Assignment: Legislation Grid and Advocacy Statement NURS 6050
The telehealth Act, US Congress House Bill 7992 aims at enhancing the application of telehealth technology in the healthcare system. The bill, HB7992, proposes the expansion of the access to telehealth services, and for other purposes. In other words, the bill seeks to expand access to telehealth services, and for other purposes. On October 6th 2020, the bill was presented to the subcommittee on health. The bill also seeks to enhance the expansion in the use of technology in the healthcare processes. The bill was proposed by Rep. Troy Balderson [R-OH] and Rep. Ann Wagner [R-MO].
The Telehealth Act or the HB7992 bill is a significant proposal in the healthcare system. When implemented, there will be a general improvement in the healthcare delivery from different healthcare facilities, both urban and rural (Bieber & Weiner, 2018). The bill should be passed and signed into law as it will mostly help in healthcare delivery especially for the populations in the rural areas. Telehealth bill, when signed into law, will greatly save costs and provide healthcare assistance to the healthcare professionals assigned to the rural healthcare facilities (Borges, 2019).  The Telehealth Act, although still in the subcommittee stage, needs to be passed to ensure general quality healthcare delivery processes.
The bill has both proponents and opponents. Convincing the opponents to support the bill is significant in ensuring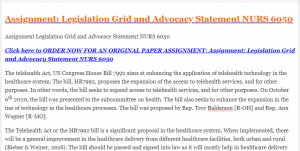 that it becomes law. The opponent, Tony Yang, an associate research professor in health administration and policy for George Mason University, argues that the cost associated with the policy will be greater. However, there is a need to consider the fact that the act will lead to more benefits for both the patients and the healthcare professionals.
References
Bieber, S. D., & Weiner, D. E. (2018). Telehealth and home dialysis: a new option for patients in the United States. Clinical Journal of the American Society of Nephrology, 13(8), 1288-1290. https://cjasn.asnjournals.org/content/13/8/1288.short
Borges, L. M. (2019). A Service Member's experience of Acceptance and Commitment Therapy for Moral Injury (ACT-MI) via telehealth:"Learning to accept my pain and injury by reconnecting with my values and starting to live a meaningful life". Journal of Contextual Behavioral Science, 13, 134-140. https://doi.org/10.1016/j.jcbs.2019.08.002
As a nurse, how often have you thought to yourself, If I had anything to do about it, things would work a little differently? Increasingly, nurses are beginning to realize that they do, in fact, have a role and a voice.
Many nurses encounter daily experiences that motivate them to take on an advocacy role in hopes of impacting policies, laws, or regulations that impact healthcare issues of interest. Of course, doing so means entering the less familiar world of policy and politics. While many nurses do not initially feel prepared to operate in this space effectively, the reward is the opportunity to shape and influence future health policy.